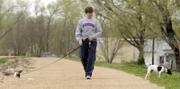 Hurricane Katrina strikes again - and this time its reach is being felt far outside of traditional hurricane country.
City Hall leaders are bracing themselves for the possibility of spending "hundreds of thousands of dollars" to inspect the city's Kansas River levee system as part of a program that federal regulators are undertaking after hurricanes devastated several levees along the Gulf Coast in 2005.
The news has left Lawrence leaders scratching their heads on how they'll fund the intensive inspection.
"We're concerned that this amounts to an unfunded federal mandate, even though we don't have any indication that there's anything wrong with the levee," City Manager David Corliss said.
The 13-mile levee that protects North Lawrence from flooding gets inspected by the U.S. Army Corps of Engineers on an annual basis. But this inspection would be much more detailed and technically is what federal regulators call a "recertification" of the levee. The process likely would involve taking core samples and testing the compaction of the 1970s-era levy to ensure that it is still structurally sound.
The city has little choice but to do the recertification. Melissa Janssen, a spokeswoman for the Federal Emergency Management Agency, said if the city does not do the recertification - or if the levee fails the inspection - that FEMA would begin treating the North Lawrence area as being in an unprotected flood zone. That would require essentially all North Lawrence property owners who have a mortgage on their home to purchase flood insurance, which could cost several hundred dollars per year.
"That's not a very good option for us," Chuck Soules, the city's director of public works, said about not recertifying the levee.
Janssen said the nationwide recertification process is important to ensure people are receiving proper flood protection.
"I would imagine that people, especially those who live behind the levee, would want to know that the levee is actually providing protection," Janssen said. "We have on our maps that they're being projected by these levees, and we don't want to be publishing anything that is not correct."
Soules - whose department maintains the levee - said he's confident that the levee is in good shape. He said the levee performed well in the 1993 flood.
"My understanding is that the water level was as high as it had ever been," Soules said. "The levee got a test then and did fine."
City leaders don't have a good estimate of how much the recertification process will cost, but Soules said "it is not a little project." He said in talking with officials from FEMA and the Corps of Engineers that it seems reasonable to expect that it will cost more than $100,000.
Thus far, FEMA is giving the city until June 2009 to complete the process, though Soules said cities are hoping for an extension.
One other side issue that city leaders will be watching during the recertification process is the future of the popular bicycle path that is atop the levee. Corliss said Corps of Engineers and FEMA officials at times have questioned whether the bike path creates unnecessary erosion or wear and tear on the levee.
Neither regulating body has told the city that the path must go, but Corliss said the city will want to make sure that doesn't become an issue.
"I think the levee is a wonderful park," Corliss said. "We are going to fight to keep public use on the levee."
Bicycle enthusiasts said they would also join in that effort.
"It is a very popular trail," said Eric Struckhoff, a frequent bicyclist and member of the city's bicycle advisory committee. "I can't see how it creates much damage to the levee. It would be a real shame to have anything happen to the trail."
Copyright 2018 The Lawrence Journal-World. All rights reserved. This material may not be published, broadcast, rewritten or redistributed. We strive to uphold our values for every story published.