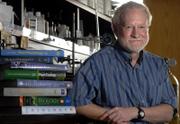 When Kansas University professor Craig Martin battled publishing companies to ensure the lowest textbook price for his students, he joined a growing movement to make textbooks more affordable.
Three years ago, Martin, professor and chairman of the department of ecology and evolutionary biology, haggled with two publishing companies, playing their offers off each other, until he got the book down to $49, nearly half the price of the original offer. The act garnered attention and further involved him in the campaign at KU and across the country to lower students' textbook costs.
"I've always been conscious of the price students cough up for textbooks, and it's gotten out of hand," Martin said.
Textbook prices have increased at four times the rate of inflation since 1994, and college students can expect to spend an average of $900 a year on books, according to the Affordable Textbooks Campaign's Web site. That's nearly 20 percent of the cost of in-state tuition at KU.
"I have to spend all of my money on books; therefore, at the beginning of the semester I have a lot less money to spend on things like rent, utilities and all the other costs of attending school," KU senior Hillary Stroda said.
Bob Basow, KU associate journalism professor, and Hannah Love, a junior and College of Liberal Arts and Sciences student senator, assembled a task force of students, faculty and staff to propose solutions.
"We want to see all parties involved working together and on the same page," Love said. "Addressing the problem has been in talks and in the works, and now we see it going forward."
The proposal includes working closely with KU Bookstores to encourage faculty to preorder books further in advance, giving the bookstore more time to purchase used and new copies at the lowest price and students more time to look to alternatives, such as the Internet, for purchasing books. In addition, the task force developed plans for a textbook addition to the KU Libraries where students can check out books and supplemental materials at no cost. The KU Student Senate will fund the library project.
"The library plan was a puzzle piece no one else would have seen," Basow said. "Communication between the Student Senate and the library was just brilliant. It's a real KU first."
Bruce Hildebrand, executive director for higher education for the Association of American Publishers, said publishers do not deserve the blame they receive about rising textbook prices.
"Students need to remember that there is a huge range in textbook prices," he said. "It's not the price of the book, per se, but the price of the book the faculty chooses."
Hildebrand said textbook publishing companies are also working to offset textbook costs by offering more low-frills editions and encouraging faculty to consider customized textbooks. Customized books allow faculty to create an edition that includes only the chapters that will be covered in the course.
Used-book factor
KU psychology professor David Holmes has published several textbooks he uses in his classes. He supports initiatives to lower costs for students, and he has used cost-saving techniques with his own books, such as ordering notebook-style books instead of hardcover copies. He also said used-book companies contribute to the cost of new textbooks.
"My publisher estimated that my textbooks were used at least four times before they fell apart or we brought out a new edition," Holmes said. "In short, because of the used-book companies, publishers sell fewer books than they used to, and to cover their production costs, they must put a higher price on the books they sell."
As campus groups and publishing companies work to address the problem, lawmakers are taking notice.
Last month 17 states, including Kansas, were considering bills addressing textbook costs. Basow said the Kansas bill was withdrawn following testimony that showed that what the bill proposed was essentially already in the works at KU.
At the request of Congress, last September the Advisory Committee on Student Financial Assistance started a yearlong study to examine the issue.
The study includes three field hearings, in Illinois, California and Oregon, to give those involved an opportunity to weigh in on the problem. Information collected from the hearings will be used in a final report that is expected to be delivered to Congress by May. Martin was invited to speak at the December hearing in Chicago.
"At first I felt like a fish out of water because any idea I had, there was an expert on," Martin said. "But everyone who spoke after me referred to what I said. The congressional committee thanked me profusely."
Martin presented the ideas of the KU task force, as well as ideas he is already implementing with his own classes such as ordering unbound books or having books custom-made to include only selected chapters. Martin said he thought his presentation was well received because it showed that faculty members are genuinely concerned about and proactive in fixing the problem.
"The bottom line is I'm here to serve students," Martin said.
Copyright 2018 The Lawrence Journal-World. All rights reserved. This material may not be published, broadcast, rewritten or redistributed. We strive to uphold our values for every story published.