I was helping haul a minifridge to the second floor of my daughter's dorm at the University of Iowa when a voice called out.
"Bonnie! I just got my books! It cost me, like, $560!"
It was Shari McElroy from Omaha, Bonnie's roommate from her freshman year. As we waited our turn for the dorm elevator, the two sophomores caught up and talked about the rising costs of college textbooks.
Later, as I helped Bonnie organize her room, her boyfriend, Arna, phoned her to report his own textbook bill - also topping the $500 mark.
As they talked about the cost, I stretched out on Bonnie's just-assembled futon - with the dull ache in my lower back creeping over to my wallet.
Trading ink for electrons
I wondered when students were going to turn to e-books as a cost-saving tool.
This year, textbooks in e-book format are selling at a 45 percent savings - you can get a $100 book for $55 at the KU Bookstores at Kansas University.
Another advantage is portability: You can fit about 500 standard textbooks onto a single DVD.
And the electronic titles are getting a little more user-friendly. Some come with the ability to highlight text and take notes. You also can print out certain sections, rather than the entire text of an e-book.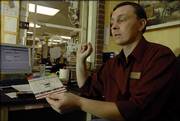 The biggest disadvantage: They're not very easy on your eyes. You have to read most of them on a computer screen or some digital reading device.
Also, unlike physical textbooks, you can't sell them back - you don't have the digital rights to do so.
Such disadvantages so far have steered most students away from them, according to two Lawrence booksellers.
Baby steps
But they know it's only a matter of time before e-books will come into more general use.
"In five years, there may be a whole new world," said Tim Norris, director of KU Bookstores.
The bookstore is selling 53 e-books this semester - a fraction of the 4,000 titles available elsewhere - at rates up to 45 percent off. You can see the list at www.kubookstore.com.
"We're taking very early baby steps into this enterprise," Norris said.
What needs to happen is a better business model for selling the books and a better way to read the electronic materials, Norris said.
Nancy Horner, Lawrence Public Schools' information resources specialist, about e-books.
So far, he said, a perfect device for reading and manipulating the text electronically hasn't been invented.
"I think there will always be room for the student who wishes to curl up under a tree with a battered old paperback, who cracks the spine and just reads away without any thought of batteries or Wi-Fi connectivity or anything like that," he said.
But e-book publishers have made progress, creating search tools and audio and video elements.
"What's nice now is you're able to highlight in different colors," Norris said. "And when you print, you can print them in those colors."
Norris said a lot of students in elementary schools already were using digital learning tools.
And graduate students in some professional fields of study, such as dentistry, are relying more and more on e-textbooks.
"It's the current student population right now that doesn't have as much experience with them," he said.
Not a best-seller
Publishing industry figures show e-books still account for fewer than 1 percent of all textbook sales nationwide, said Bill Madl, textbook manager at Jayhawk Bookstore.
For that reason, the only textbook in e-book format that Madl carries at his store is "Introducing Physical Geography," which is used in KU's Geography 104 class.
What you get for your money is an access code that's inside a cardboard sleeve. You go online to the publisher's Web site, where you use the code to access the e-book.
Madl has a theory: E-books will take off as soon as a generation who grew up with computers from kindergarten through high school arrives on campus.
"I'm going to guess it's going to be about five to 10 years," he said.
Not savvy enough
Later, back in Kansas, my cell phone rang. Bonnie was happy, having dodged the $500 textbook bullet in Iowa, keeping her costs down to $240.
No, she hadn't even looked at e-books, but shopped around off-campus to find bargain prices.
Then an instant message appeared on my laptop screen. It was Bonnie's twin, Julie, checking in from her dorm room at KU.
I typed in a question about textbooks. No, she hadn't bought any yet.
Surely, Julie could be sold on e-books. After all, she's grown up with technology, including computers, cell phones, digital cameras and iPods.
"Have you ever thought of e-books?"
Her text message, adorned by her face and a cartoon word balloon, quickly shot that thought down on my laptop's flatscreen.
"I don't think so," Julie wrote. "I'm not computer savvy enough for it."
Copyright 2018 The Lawrence Journal-World. All rights reserved. This material may not be published, broadcast, rewritten or redistributed. We strive to uphold our values for every story published.