With a walkoff home run, eventual state champion Olathe East knocked out Free State 2-1 in eight innings during the first round of the state tournament last year.
"The girls were really disappointed," Free State coach Pam Pine said. "But as I told them, they had a great season."
Despite the heartwrenching end to last season, the Firebirds have a strong chance to return to the postseason this spring. They return all but one player from the 2006 team.
Pine will employ senior starters at catcher (Allie Hock), first base (Brooke Abney), second base (Livi Abney, Brooke's twin) and center field (Aleese Kopf).
"They know each other," Pine said. "They have very good continuity. They trust each other. They help each other out on the field. They help the younger kids to have positive attitudes."
Other positive influences include returning starters junior Kayley Lane, a shortstop and third base and outfielders Maggie and Rose Hull.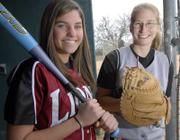 Although Free State graduated only pitcher Summer Mulford from its 2006 third-place Sunflower League team, the Firebirds leaned heavily on her last year.
"That's going to be a really big loss for us," Pine said.
Junior Catherine Smith will help fill that void as the team's go-to arm. Catherine's younger sister, left-handed freshman Megan Smith, will pitch some innings as well. Catherine relies more on speed than Megan, a control pitcher.
In an attempt to eke out some innings from a roster short on pitchers but long on position players, Brooke Abney may see action on the mound as well.
"We've been working with her," Pine said, "to kind of get all of the water out of the sponge that we can."
After never having pitched before, Abney went eight to 10 innings for the Firebirds last year.
The Abneys represent one of the three sets of twins on the roster. In addition to the Abneys and the Hulls, Megan Smith's twin, Emily, likely will play on the junior varsity.
"It's pretty unique," Pine said.
And the Firebirds' goal are pretty lofty but attainable.
"One of their goals is to go to state and win state," Pine said. "I feel pretty good about our chances."
Firebird players Lauren Fox, Kelsey Leinmiller-Rennick and Lexi Smith also will pursue that objective.
Lawrence High should field a strong offensive team, but like FSHS, its success will depend on the development of the pitching staff.
"We're going to have to score runs this year," LHS softball coach Reenie Stogsdill said. "Our pitching staff is not a little bit inexperienced, it's a lot bit experienced. That's our big question mark."
Lauren Kelly, a varsity player since her freshman year, will score some of those runs. One of seven returning starters from last year's 6-15 team, the versatile Kelly, who likely will play softball at either Bradley University or Southern Illinois University next year, has played catcher, outfield and third base but moves to shortstop this year.
"She knows the game really well," Stogsdill said. "I am expecting some good things out of her."
Other bright spots include senior Sam Hays, a centerfielder who will attend Fort Scott Community College next year for softball. Senior Hannah Somers, known for her three-point shooting ability on the basketball team, will play in the outfield. Senior Amanda Weishaar, the team's cleanup hitter, should provide a power source.
Despite having seven seniors, the Lions also should receive contributions from two freshmen: second baseman Jamie Jarrett and catcher Kacie Welborn.
"(Welborn) looks probably better at the plate than anyone right now," Stogsdill said.
Welborn, though, likely will see time on the mound. Stogsdill praised Welborn's physical strength and mental toughness and hopes those attributes will help her adapt to a new position.
"She's not a pitcher, but I'm going to try and make her be one," Stogsdill said. "She's just a gifted athlete."
Senior Syndey Seratte also has never pitched on the varsity level but has expressed willingness to do so.
"We're going to rely a lot on her," Stogsdill said.
The Lions also will rely on varsity players Caitlin Bowlin, Katie Grom, Brittaney Krug and Kalli McClure.
Copyright 2018 The Lawrence Journal-World. All rights reserved. This material may not be published, broadcast, rewritten or redistributed. We strive to uphold our values for every story published.