No. 1 seed Kansas University has advanced to an Elite Eight meeting against No. 2-seeded UCLA, a 64-55 winner over Pitt on Thursday night.
Game time will be 6:05 p.m. Saturday.
UCLA is one of the toughest defensive teams in the country.
"This game will prepare us for that game," Russell Robinson said of KU's 61-58 victory over SIU.
"We're playing UCLA. Tough, tough team," Brandon Rush said of his brother JaRon's former school.
Coach Bill Self said: "This wasn't the toughest region to get up and down in," he said of a running game. "It's a grind-it-out region. UCLA under coach (Ben) Howland has a great defensive team and can score the ball as well. We definitely have our work cut out."
¢ Off night for Collins: Freshman point guard Sherron Collins had two points, one assist and three turnovers in 23 minutes.
"Tonight he wasn't himself. His knee was bothering him," Self said of Collins' swollen left knee, which has bothered him off and on the last several weeks. "He should excel in a game like that against pressure."
Collins said the Salukis had a tough defense to crack.
"They had great defense," Collins said, "but most of the trouble was caused by ourselves. We tried to move too fast."
"Our bench saved the day," Collins added, noting Rodrick Stewart had nine solid minutes, with Julian Wright, Mario Chalmers and Rush sitting out the last five minutes of the first half with two fouls.
"Our bench did a great job holding it down until the starters could come back."
¢ Sasha sits: Sasha Kaun scored two points with a rebound in 11 minutes. He played just three minutes the second half, with Darnell Jackson (eight points, five boards) and Darrell Arthur (nine points, two boards) having big games.
Photo Gallery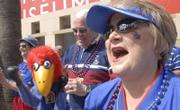 NCAA Tourney: KU vs SIU
"We knew Sasha was going to have a hard time in this game because they were just so little and so fast," sophomore Chalmers said. "Shady and Darnell gave us great minutes."
"It's a a hard game for Sasha to play," Self confirmed. "Shady and Darnell were both great."
Kaun said he was fine with the coach's decision. "Our bench was great," Kaun said, noting he was fine health-wise. "I'm just an old man."
¢ Glad he returned: Rush, who scored 12 points off 6-of-6 shooting, was just happy to be in HP Pavilion.
He came awfully close to declaring for the NBA Draft after his freshman season, he indicated.
"I had a talk with my grandma and my mother and brother (Kareem), and they told me they wanted me to come back," he said. "If it was up to me, I would have gone. I'm happy I came back. We're in the Elite Eight."
¢ Nice throws: Jackson hit a pair of free throws with 1:44 left that gave KU a four-point lead.
"I always say I make them for my mother, my grandmother and my friend, Don Davis," he said of his father figure in Edmond, Okla.
Jackson said his other father figure, Self, fired up the team at halftime and the second half.
"Coach Self kept telling us, 'Be ready to hit. Don't cry about it. Just keep on moving,''' Jackson said.
¢ Tubby talk: Self on his buddy, Tubby Smith, leaving Kentucky for Minnesota.
"I don't know his situation inside-out," Self said. "I hope he made the decision based on what he wanted. He is a great coach, one of the best in the country. He's a good friend."
Self was asked by a reporter if he'd be the next Kentucky coach.
"That," Self said, "will not happen."
¢ Preparation: KU's recent practices helped prepare for the Salukis' pressure.
"We had two practices where the defense was grabbing, fouling, trapping," Rush said. "This game was just like that, except they weren't intentionally grabbing."
Copyright 2018 The Lawrence Journal-World. All rights reserved. This material may not be published, broadcast, rewritten or redistributed. We strive to uphold our values for every story published.