Whether it was to spur "creative thinking" or plant a dagger in the heart of community planners, Baldwin City's mayor got some attention recently when he suggested canceling this fall's Maple Leaf Festival.
Mayor Gary Walbridge said Tuesday he made the comments at a City Council meeting two weeks ago because he was frustrated by continued problems with the downtown revitalization project.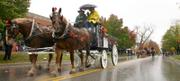 In the last two years, both times the $1.2 million project has been let out for bids, only a single bidder has responded. The most recent time, in February, the bid came in for double the engineer's estimated cost and was rejected by the council.
Utility Director Bill Winegar has said contractors won't bid on the project because of the short time frame for completion - before Oct. 1 because of the annual festival.
Annie France, vice president of the Maple Leaf Festival Planning Committee, said Walbridge's words were damaging.
"While we believe strongly that the comment wasn't intended to be taken seriously and that our festival will not be canceled, many, particularly those who do not live in Baldwin, may not realize this," France said. "The city leadership doesn't recognize the positive impact the festival has on Baldwin City and other local communities."
Walbridge said he intended the opposite to happen.
"This council is very aware of what the Maple Leaf Festival means," he said. "The comments I made were just to spark creative thinking."
City Council President Amy Cleavinger also expressed support.
"I think it's unfortunate the extent that this was taken," she said. "I don't think anyone took that seriously. We certainly want to show our support. It's a no-brainer."
The city is rebidding the project and has extended its deadline to March 28, with 240 days for completion rather than 120.
"We'll work around Maple Leaf," City Administrator Jeff Dingman said. "They will demobilize for Maple Leaf. As far as specifics, at this point in time I'm not sure as far as individual businesses. When we have a contractor, we'll know more. We'll inform business owners when we know."
Copyright 2018 The Lawrence Journal-World. All rights reserved. This material may not be published, broadcast, rewritten or redistributed. We strive to uphold our values for every story published.