San Jose, Calif. — The Rev. Bob Flannery actually prayed for this: Kansas against Southern Illinois, with the winner receiving Sweet 16 salvation and a chance to play for passage into hoops heaven: the NCAA Final Four and a national championship.
Now he just needs a miracle.
"But that rarely happens," Flannery said with a chuckle, of the prospects for a tie game Thursday, then free passage for both teams to the national title game April 2 in Atlanta. "For me, that would be the perfect way to do it."
That's because Flannery - who grew up in Lawrence wearing crimson and blue, attending games at Allen Fieldhouse and cheering for the Jayhawks - ends his Sunday Masses these days with an earnest, "Go Salukis!"
As pastor of St. Francis Xavier Catholic Church in Carbondale, Ill., Flannery leads a congregation that includes the Southern Illinois football coach, several SIU professors and dozens of others affiliated with the school, KU's opponent in a 6:10 p.m. CDT Thursday game at HP Pavilion in San Jose. The victor will play UCLA or Pittsburgh on Saturday for a spot in the Final Four.
"I'm conflicted," he said, "but I'm a winner either way."
-->
Back in Lawrence, Joe Flannery - president of Weaver's Department Store, a KU alumnus and die-hard Jayhawk fan - has heard about how his older brother had told his parishioners that he would be pulling for the Salukis.
KU already has won national titles, the priest told them; now it is SIU's turn to win one.
Not that brother Joe buys it.
"Naturally, he's preaching to the choir," Joe Flannery said.
Photo Gallery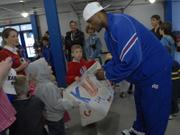 California dreamin'
Copyright 2018 The Lawrence Journal-World. All rights reserved. This material may not be published, broadcast, rewritten or redistributed. We strive to uphold our values for every story published.