When some of the country's top coaches think of Southern Illinois University basketball, they think of intense, in-your-face, almost impenetrable defense.
"It's probably as good a defense as there is," Kansas University's Bill Self said of the Salukis' man-to-man pressure, which allows 61.6 points a game, the third-stingiest mark in the country.
"There will be a lot of late-clock possessions in the game," Self added of Thursday's Sweet 16 semifinal between KU and SIU, set for a 6:10 p.m. (Central time) start at the HP Pavilion in San Jose, Calif.
The fourth-seeded Salukis' defense caused headaches for first-year Indiana coach Kelvin Sampson in the Hoosiers' 57-47 victory over SIU in December in Bloomington, Ind.
"Sometimes your offense doesn't look good against a good defense," former Oklahoma coach Sampson said. "Some people predict who is going to win a game based on the name of their jersey. Those Southern Illinois kids are tough."
Wichita State coach and former KU player Mark Turgeon learned that first-hand in a pair of losses to SIU this season: 54-46 in Wichita and 73-68 in Carbondale, Ill.
"I really felt like we were going to be able to run our stuff against them. We couldn't," Turgeon said.
One of Self's good friends, Missouri State coach Barry Hinson, was victimized twice by the Salukis' swarming defense - 51-47 at MSU and 76-56 in Carbondale.
The colorful Hinson had a quick quip when asked about how teams deal with SIU (29-6) and Missouri Valley defensive player of the year Randal Falker.
"We run down to the police station and we get all the German Shepherd attack dogs and just bring them onto the floor and we rub meat juice all over our arms and we just get ready to practice," Hinson said.
The Jayhawks (32-4) figure to benefit from the fact they've played well both on the fast break and executing in the half court this season.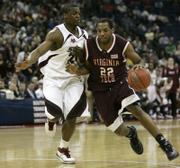 "Some people say you need to speed teams up. You speed teams up defensively," Self said of plucking steals and grabbing rebounds. "Offensively, you play too fast, you don't get the shots you want."
"We have to exercise some patience. We played methodical against Kentucky and still scored," he added of Sunday's 88-76 second-round win over the Wildcats in Chicago.
¢Travel plans: The Jayhawks, who took the day off Monday, will practice this morning into the early afternoon at Allen Fieldhouse and leave for Topeka's Forbes Field at 2 p.m. Their charter flight will leave for California at 3:30 p.m.
¢Lowery 'loves' Wright: SIU coach Chris Lowery was an assistant at Illinois under Bruce Weber when Julian Wright was being recruited by KU and U of I.
"I love Julian," Lowery said Monday. "I thought he would be a phenomenal player. When you see kids who aren't selfish and as talented as he is, you have to respect them because he knows he's good but he doesn't want to be as good as everybody wants him to be.
"But you see the flashes of how good he can be, instantly, almost every time you watch him. It doesn't have to mean making a shot, it's his ability to hit a three or pass from either hand, his ability to seem to make plays so easy, is what makes people in awe of his talent."
Of KU's team, Lowery said; "They're good. They have guys who are going to shake commissioner (David) Stern's hand in the NBA draft. Their players are that good. They're talented. Right now they're playing better than anybody else in the country after the first weekend.
"Now, it's a new weekend. It's a new time. We're not worrying about how we match up with them now. It's about when we step on the floor with them."
¢Tatum a fan: SIU's Jamaal Tatum, the player of the year in the Valley, likes KU's team.
"We know they are a very athletic team and we know they have a lot of great basketball players, in fact some NBA basketball players. We know what kind of talent they have and our main concern is coming out and playing hard," Tatum said.
"We can't worry about what kind of talent they have or how many players they have capable of going to the NBA. We have to come out and just compete and match their intensity level. We have to come out and set the tone of the game and not be intimidated."
¢Odds: One Las Vegas oddsmaker lists KU as the favorite to win the West Regional with 4-5 odds. UCLA is 11-5, Pitt 9-2 and SIU 10-1.
Copyright 2017 The Lawrence Journal-World. All rights reserved. This material may not be published, broadcast, rewritten or redistributed. We strive to uphold our values for every story published.