James Bush
Bush, who is the outgoing pastor of Lawrence's First Southern Baptist Church, said Lawrence streets were in decent condition. He gave them a letter grade of B when asked to rate them, saying they were OK in comparison with other communities.
He did not rule out spending more money on street maintenance repairs, but said he would not support a tax increase to do so. He said any new funding would need to come from a growth in the tax base or by shifting funding from another part of the budget, but isn't prepared to say where money could be shifted from to provide the additional funding.
Bush did say he would consider using impact fees - a one-time fee charged to developers as they build neighborhoods. But Bush said he would be interested in doing so only as long as the city made a commitment to building infrastructure ahead of growth, rather than relying on developers to build the infrastructure as growth is occurring.
On the issue of roundabouts, Bush said he personally has no problem with them but would support the city halting construction of the devices because he's hearing "strong objections from the public" about them. He also said that would be his stance on traffic circles, which are much smaller versions of roundabouts designed to calm traffic in neighborhoods.
Bush said supports the 32nd Street route for the uncompleted South Lawrence Trafficway that would go through the Baker Wetlands. Bush said he believed the mitigation package would help alleviate any environmental damage done to the area.
On public transit, Bush said he was a supporter of the Lawrence Transit System, but said he didn't support any tax increases to make improvements to the system. He said he does support an idea to merge the T with the public transit systems at Kansas University because it would produce long-term cost savings, although it may result in more upfront costs.
Rob Chestnut
Chestnut, chief financial officer for Allen Press, said the condition of city streets is only average at best. He gave them a grade of C.
He said it's likely more money for street maintenance is needed in the city budget. He'd consider a small sales tax increase to fund additional street maintenance, as long as it was approved as part of a citywide election.
Chestnut has concerns about impact fees because he questions whether the city would use them properly. He's not sure the city would truly build infrastructure ahead of growth, but thinks the impact fees instead would be used for a little bit of everything.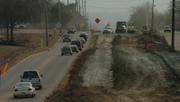 He also said he would support "putting a hold" on future traffic-calming devices, such as traffic circles and speed humps. He said because the devices are expensive to build, the city needs to do a study of the ones in place to see if they are working the way the community had hoped. Roundabouts, though, might be all right as long as they are large enough for motorists to easily navigate them.
Chestnut supports a 32nd Street alignment for the eastern leg of the trafficway, as long as the Federal Highway Administration supports it. He thinks choosing another route could delay completion of the project by 10 to 15 years.
He wants to hear more about funding options before committing to a merger of the city's public transit system with the KU system. He does have concerns that more people aren't riding the T. He said he wanted to get "creative" in how the city increases ridership.
Mike Dever
Dever, who owns an environmental consulting firm, said street conditions were improving in Lawrence but still could be better. He said it was "hard for him to gauge" whether more funding needs to be devoted to street maintenance. If more funding is needed, he said he would not support a tax increase. Instead he said money needs to be reapportioned. He said one possible area is to reduce the amount the city spends on consultants.
He said he is undecided on impact fees, because they do create concerns about higher housing prices in the city. If impact fees increase the price of new homes, he said that also could result in an increase in existing home prices.
Dever supports the 32nd Street route for the trafficway. He said he was "comfortable with the environmental tradeoff" created by the mitigation plan for the 32nd Street route. He said the mitigation plan would create high-quality wetlands that would more than replace the portion of wetlands lost to the road project.
A merger of the T with KU bus systems would be wise, Dever said. But he is not convinced of the approximate $500,000 cost that a city consultant placed on the merger. He thinks there are low-cost options, such as better coordination of the routes to increase student ridership on the T.
But he said the community needs to decide whether it truly wants a transit system. If so, "we need to support it through greater ridership and not let it sit around and flounder."
Boog Highberger
Highberger, an incumbent commissioner and an attorney for the Kansas Department of Health and Environment, said Lawrence streets were in relatively good condition compared with other cities. He gave the streets a B grade. He also said their conditions were improving. The commission over the past two years has added $2 million to the street maintenance budget.
Highberger said the city needed to maintain the current level of funding for street repairs but did not see a need for additional funding. He said he "absolutely" supports using impact fees to fund new road construction. To ask existing residents to pay for new roads through property taxes "unfairly shifts the cost of growth" to existing residents, he said. He also doesn't think impact fees will add to the city's affordable housing problems.
On roundabouts, Highberger said he supports them when they are well-designed, although he said they don't work in every geographic location. His opinions on traffic circles and other calming devices are mixed.
He's open to looking at other ideas for traffic-calming because the public seems to be frustrated with traffic circles. But he also said he had a sense that the traffic-calming devices were making a difference in some neighborhoods.
Highberger does not support any route for the trafficway that goes through the Baker Wetlands. He's been an advocate of a route south of the Wakarusa River. He said he would want the final leg of the trafficway to built on existing road right of way, and that the logical choices would be either North 1000 or North 1100 roads.
Highberger thinks the city likely will have to spend more money for its public transit system because the buses will need to be replaced soon. As for paying for the improvements, he said he would be willing to increase the T fare, although he said that likely wouldn't pay for all the needs.
Carey Maynard-Moody
Maynard-Moody, a retired school social worker, said the condition of Lawrence streets are "comparable or slightly better" than other communities. She have them a B grade.
Maynard-Moody isn't sure that more money is needed for street maintenance. Instead, she said the city needs to rethink how it builds future streets. She said many of the city streets are too wide, which adds to the costs to maintain them.
Impact fees are a definite way to finance new streets, Maynard-Moody said. She points to their use in Johnson County, and said Lawrence is "behind the times" for not having them. She thinks any increase in housing costs from the fees would be "marginal."
Maynard-Moody said roundabouts were all right. She also said that traffic circles and other calming devices were effective, but they are a sign of poorly designed streets. Future streets should be designed in a more narrow European-style that naturally forces motorists to drive slower, she said.
Maynard-Moody does not support completing the trafficway. Instead, she would like to see improvements to North 1000 Road, also known as Wells Overlook Road. She said that road could serve as a good route into Johnson County. She also said the community needs to become more serious about exploring light rail.
Maynard-Moody supports spending more money on public transit because "people need choices." She said she would support an increase in transit fares, and would like to explore selling advertising for placement on city buses. She also would like expanded service hours for the T, and additional routes. She said those improvements might have to be phased in because "this is a belt-tightening time."
David Schauner
Schauner, an incumbent who is general counsel for the Kansas National Education Association, said streets had improved during his time on the commission. He said when he came into office in 2003, he would have given the streets a grade of a D. Today, he grades them a high C.
His "very strong preference" is to not have a tax increase to fund additional street repairs. He supports the use of impact fees for new road construction. If the city does not implement the fees, he said many new road projects would not get built. He said the idea that impact fees would significantly increase housings costs was mainly a "myth."
On roundabouts, Schauner said they can be successful in the right locations. But he does not like trying to build a roundabout in existing areas. Instead, they should be used just as part of new road construction.
He's less impressed with traffic circles and traffic-calming devices. He's "very skeptical" they are worth the money, and would rather use more police patrols and portable speed signs to discourage speeders in neighborhoods.
Schauner does not support a trafficway route that runs through the wetlands and wants to look at routes south of the Wakarusa River. He does support looking at making improvements to 31st Street to give local motorists an alternative to 23rd Street.
On public transit, Schauner is the only candidate to firmly say he doesn't support a merger of the T with KU transit systems. He said he could not support the merger as it has been proposed because the city is being asked to share too much of the costs.
Copyright 2018 The Lawrence Journal-World. All rights reserved. This material may not be published, broadcast, rewritten or redistributed. We strive to uphold our values for every story published.