Daily commutes from Lawrence to Johnson County just became easier.
Responding to rider requests, the Johnson County Transit expanded its K-10 Connector bus service this week to include five additional trips.
"It's available to not just students, but to anyone who wants to ride it," said Phil Detrixhe, marketing manager for Johnson County Transit.
He said anyone younger than 13 must be accompanied by an adult.
The route along the Kansas Highway 10 connects Kansas University with Haskell Indian Nations University, Johnson County Community College and the KU Edwards campus in Overland Park.
The additional trips, which started Monday, feature two eastbound runs at 2:35 p.m. and 8:05 p.m. and three westbound runs at 3:30 p.m., 5:30 p.m. and 7:10 p.m.
The service began Jan. 17. For more information and a full schedule, go to www.thejo.com.
Alice Amrein, transportation director for the Johnson County Transit, said coordination among the various organizations - the universities, JCCC, the city of Lawrence and the Mid-America Regional Council - was crucial.
"We couldn't have started this project without their commitment and their willingness to assist on the K-10," she said.
To start the service, Johnson County Transit received a $200,000 grant from the Mid-America Regional Council through the Congestion Mitigation Air Quality program.
The Kansas Department of Transportation also was a funding partner. The annual operating cost is approximately $365,000.
Amrein said in two to three years, the route would serve 350 to 400 riders each day, according to transit agency estimates.
In less than a month, the buses already serve about 225 riders per day.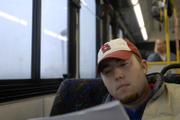 Riders can pay $2.50 for a one-way trip or buy a 10-ride bus pass for $15. The service was free until Monday.
Detrixhe said riders use the time to work on laptops, finish homework, read or take a nap.
Often, he said, people who use the service will recommend it to friends and co-workers. Daily bus rides also provide an opportunity to form new acquaintances with other commuters.
"They become a community within themselves," he said.
Bhadrik Patel, Olathe senior, said several of his friends from the KU Edwards campus started taking the bus once he told them about it. Before the service started, Patel had to drive daily between Lawrence and Johnson County.
He estimated the rides allowed him to save $10 to $15 a week on gasoline and catch up on sleep by napping on the bus. He's also put that time to academic use.
"This kind of forces me to do homework," he said.
Patel was one of the riders who submitted requests for more evening rides. One day, he said, he missed the eastbound 5:40 p.m. bus from 19th Street and Naismith Drive and had to wait five hours for the next ride.
Kristina Lialyte, KU Edwards campus senior, said she took classes at three campuses: KU, the KU Edwards campus and Johnson County Community College.
Once she heard of the service through a friend, she began taking it regularly.
Lialyte said she would prefer more frequent rides and a closer bus stop, not on the edge of the KU campus at 19th and Naismith.
But Danny Kaiser, assistant director of parking and transit, said the current stops helped keep the bus on time. If the bus got caught in campus traffic, he said, it could get off schedule.
"Because there is pretty extensive bus service through the core of campus, we just wanted to make sure there were places where the two services could connect," he said. "We really don't need to add any more traffic, any more buses through the main part of campus."
Overall, Lialyte said, the buses provided comfortable and relatively fast rides.
"It's pretty cool," she said. "I think it's 10 out of 10."
Bus stops
The K-10 Connector service has five designated stops:¢ KU campus: Park and Ride east lot shelters at Clinton Parkway and Crestline Drive.¢ KU campus: southwest corner of 19th Street and Naismith Drive.¢ Haskell: Park and Ride north of the stadium.¢ Johnson County Community College: the north entrance of the Carlsen Center.¢ KU Edwards campus: northwest side of the roundabout.
Copyright 2018 The Lawrence Journal-World. All rights reserved. This material may not be published, broadcast, rewritten or redistributed. We strive to uphold our values for every story published.