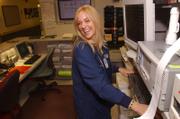 Karin Feltman is a busy woman.
Apart from her duties at Lawrence Memorial Hospital, where she has worked as an emergency nurse for the past 11 years, Feltman spends much of her spare time volunteering in Lawrence and elsewhere.
Feltman coordinates the volunteer program in the emergency department at the hospital, which enlists up to 100 volunteers, mostly students who want to become involved in health care. Feltman is involved with everything from training to scheduling.
Feltman also works with the emergency room disaster team at the hospital. She was in Anniston, Ala., for training when Hurricane Katrina struck the Gulf Coast. Feltman, with the support of her supervisors at the hospital, traveled twice to Long Beach, Miss., to assist with medical efforts. The first trip brought Feltman to Long Beach for three weeks in September 2005, just weeks after the hurricane. Feltman returned for a week in spring 2006.
"It was horrifying and definitely eye-opening, unlike anything I'd ever experienced before," Feltman said.
The hospital supports employees who try to make a difference, said Joan Harvey, emergency department director at Lawrence Memorial Hospital.
"Karin has a passion for the well-being of our community," Harvey said.
But Feltman's efforts extend beyond Lawrence.
Her work in post-Katrina Mississippi inspired her to join two medical missions that will travel internationally this summer. Feltman will travel with a team for one week to Ciudad Espana, in Honduras, to volunteer at a government clinic.
Feltman will also join a group of doctors and nurses who will travel to Kenya for 10 days in late June. The team will work mostly in Maai Mahiu with Comfort the Children International, a Christian organization that works to provide educational, economic and medical support to Kenyans. Dr. Stephen Segebrecht, a Lawrence physician, will lead the team.
"We work out of a public health facility built by the Kenyan government but not staffed by anyone," Segebrecht said.
The clinic usually only has a doctor for a few hours every month, he said. About 70 percent of the adult population in the city is HIV-positive, a reality that has stifled economic development and orphaned many children, Segebrecht said.
"Medically, it is a very deprived community," he said.
Feltman will use some of her vacation time to take off work for the projects. Unless outside donors contribute money or supplies, she will also fund her portion of the trip out-of-pocket.
Feltman says her faith and her experiences in Mississippi after Hurricane Katrina inspire her to volunteer.
"Going down to Mississippi really sparked a fire in me to help and to volunteer," Feltman said. "I never before realized how great that need was."
In February, Kansas City-based Ingram's magazine named Feltman a "Hero in Healthcare."
But Feltman's community involvement extends beyond the realm of medicine. In addition to her volunteer efforts through the hospital, once a week Feltman tutors a fifth-grade class at Pinckney School in writing and science. Among other activities, Feltman is involved with Habitat for Humanity, the Lawrence Interdenominational Nutrition Kitchen and Leadership Lawrence, an organization affiliated with the Lawrence Chamber of Commerce that studies the community and the issues that face it.
Feltman performs as the lead singer for a praise band at St. Margaret's Episcopal Church in Lawrence. She is also the lead singer for The Color 5, a band that combines elements of blues, folk and rock music, Feltman said.
Feltman's volunteer efforts and her work as a nurse stem from her faith and her innate desire to give back to the community.
"I get a lot of teasing from friends and family for how often I get in the news," Feltman said. "I don't do these things for personal recognition but to raise awareness of the issues that face our world and to inspire others to get involved.
"I can do these things," Feltman said, adding that she is not married and does not have any kids. "I have an obligation to share my blessings and my gifts back with the community and others in need. I can't think of a better way to do that than through my job and my volunteering."
Copyright 2018 The Lawrence Journal-World. All rights reserved. This material may not be published, broadcast, rewritten or redistributed. We strive to uphold our values for every story published.