For the past 10 years, Karin Feltman has been an emergency-room nurse at Lawrence Memorial Hospital.
She knows pain, trauma and despair.
That's why she volunteered to go wherever she was needed in the aftermath of Hurricane Katrina.
"I thought to myself, 'Hey, I've worked ER, I can do this,'" Feltman said during an after-hours cell phone interview from her tent behind an impromptu medical clinic in the scattered remains of Long Beach, Miss.
"I really felt I was called to do this," she said.
Feltman, 37, has been in Long Beach, population 17,800, since Sept. 20. She returns to Lawrence on Oct. 9.
Her life, she said, has been forever changed.
"I'm still looking for the words to describe it. I can't do it justice," she said. "Ninety percent of the houses here are gone. When I say gone, I mean all that's left are the front steps and a concrete slab. There's nothing there."
"The 10 percent that are still standing - you can see daylight," she said. "They'll have to be torn down."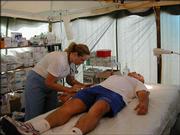 Giant oak trees, she said, have been uprooted. The region's tall pines have snapped like toothpicks.
"There are people running chainsaws 12 hours a day," Feltman said. "It didn't dawn on me at first, but the trees that are still standing, they're completely bare. Everything looks dead."
During a six-mile trip to Gulfport, Feltman said, not a single house was standing. "You have to go a half-mile inland before you see a building," she said. "Entire communities are gone."
It's been hot, too. "It's 100 degrees and 100 percent humidity," Feltman said. "We're in tank tops and flip-flops. Even the people from here said it's hot."
At the clinic, she said, patients are dazed.
"Most people, their doctors' offices are gone, their pharmacies are gone. People with heart and lung conditions and mental-health issues, they have no meds," Feltman said. "Fortunately, we have a pharmacy here. We're dispensing meds."
Every patient, she said, has been traumatized.
"There is such a sense of loss and grief," Feltman said. "You can be having a normal conversation with someone, and they'll just burst into tears. Most people here have lost their jobs, their homes, their friends, their neighborhoods. They're very desperate and very depressed. They're numb, they have no idea what they're going to do."
Feltman said she's been struck by the grace and compassion of Long Beach's citizenry.
"After what they've been through, I totally expected people to be agitated, irritable and impatient," she said. "We've seen none of that. We're here to help them, and they keep coming by to see if they can help us. We had a retired nun volunteer to do our laundry."
Half-joking, Feltman said she had given as many shots in her first week at the clinic as she had in 10 years at the LMH emergency room.
"I gave 100 (tetanus) shots yesterday," she said, adding that she's worked 12 to 14 hours a day, every day. "We're seeing a lot of puncture wounds and scrapes, viral illnesses, rashes, respiratory illnesses caused by breathing all the dust and mold, and dehydration - a lot of dehydration."
Photo Gallery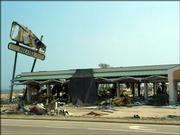 Hurricane Helpers
Lawrence residents return from storm-ravaged region with photos.
Feltman said the clinic, a project of the Mississippi Episcopal Diocese, had abundant supplies of clothing, toys, bottled water and medicine.
"What we're short of," she said, "is nonperishable food. Canned goods."
Flattened city
Long Beach is a "tourist and bedroom" community that has "a lot of retirees and commuters," said Jeannie Ripoll, director of the city's library.
The city, Ripoll said, is bisected by an east-west railroad track.
"Everything below (south of) the tracks is pretty much flat. The first three blocks (nearest the beach) are totally gone. No houses, no apartments, no condos. Nothing," Ripoll said.
"Everything that's left will have to be condemned. It's bad, really bad," she said. "Our mayor just announced that we've lost 75 percent of our revenue (producing property)."
Katrina, she said, demolished Long Beach's city hall, police station, water department and one of its two fire stations.
"The library will have to be torn down," she said.
Ripoll said she hadn't met Feltman.
"I've not been down there," she said. "But the volunteers have been wonderful. People are being so generous."
Copyright 2018 The Lawrence Journal-World. All rights reserved. This material may not be published, broadcast, rewritten or redistributed. We strive to uphold our values for every story published.