Chicago — Kentucky's beefy 6-foot-11 junior center Randolph Morris was whistled for his third foul two minutes into the second half, and it was as if a roadblock vanished.
"I think our players probably sensed we've got a golden opportunity," Kansas University coach Bill Self said. "Now we've got to make the most of it."
Morris headed to the bench with 17:57 left in KU's 88-76 victory over UK on Sunday in the United Center.
KU freshman guard Sherron Collins called it "a green-light thing" when Morris' big body was parked on the bench.
The lane became clearer, which led to drives that resulted in dishes to the outside for a bevy of made three-pointers and mid-range jumpers.
For KU's offensive gameplan, it was the perfect storm.
In the more than five minutes that evaporated while Morris was on the bench, KU outscored UK, 15-4.
With considerably less obstruction, sophomore Julian Wright scored six points inside, and fellow sophomore Brandon Rush hit two of his six threes via kickouts, thanks to dribble-drive penetration from the Jayhawks' guards.
"We felt like we could get in the paint a little more," Wright said. "Also, just guys stepping up and making shots, we got our transition going pretty well. I think that was a big key for us."
After Morris returned, UK junior guard Ramel Bradley had to plop on the bench with foul issues of his own. It kept Kentucky from cutting away much a six-point halftime deficit.
KU-UK Panorama
A Panoramic Image from the Kansas-Kentucky basketball game. See the panorama >
"I thought that was real key because we made some big plays with those guys on the bench," Self said. "And next thing you know, when they get back in the game, they're down double figures instead of it being a one- or two-possession game."
Photo Gallery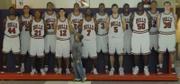 NCAA Tourney: KU vs Kentucky
Morris' final numbers still looked decent.
He scored a game-high 22 points and had eight rebounds, but it was a quiet 22 points. He scored just four field goals, two of them coming in the first 79 seconds, and was forced to earn it the hard way, converting 14 of 16 free throws.
While sending Morris to the line on six occasions in the second half worked in breaking up Kentucky's offensive strategy, it was unintentional.
And it's not a plan of attack the Jayhawks want to repeat again.
"Coach is still a little disappointed because we put him on the (free-throw) line too much," Wright said. "We did want to make him earn it, but still we want to be a little smarter with our defense and make him shoot over our length rather than foul."
Copyright 2017 The Lawrence Journal-World. All rights reserved. This material may not be published, broadcast, rewritten or redistributed. We strive to uphold our values for every story published.