For Jayhawk fans, it's not unreasonable to jump in a car in the middle of the day - or the night for that matter - to drive several hours to make a KU basketball game.
Though away games mean being stuck in Lawrence for many, a few die-hard fans think nothing of a road trip to catch the team.
Robby Paterson piled in a car with several of his friends in the wee hours of Sunday morning. About 11:30 p.m. Saturday, someone suggested they go watch KU play Kentucky.
"I said 'Let's do it. I'm ready to go,'" Paterson said of his spontaneous adventure.
When they got to Chicago, the group struggled to find tickets before finding out that the United Center still had standing-room-only tickets available. Paterson bought one for $76, and then convinced some Wisconsin fans, who'd just watched their team lose, to give them their seats.
Paterson, a KU student from Basehor, and his friends wound up sitting just a few rows behind the basket, even though they hadn't decided to make the trip until just hours before tip-off.
And for Stephanie Coenen, the Big 12 Tournament was enough of a draw to convince her that she needed to jump in her car and head to Oklahoma City.
The KU graduate from the Kansas City area decided the night of March 9 that she wanted to watch KU play in the semifinal and championship games of the conference tournament. She grabbed her roommate and off they went.
Photo Gallery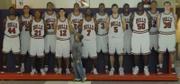 NCAA Tourney: KU vs Kentucky
"I had a great time. I'd absolutely do it again," she said. "I love my Jayhawks."
For some fans, though, there's just no way to escape jobs and school and other obligations here in Lawrence. For those fans, just finding a place to watch the game can present an obstacle.
Laura Hammond, a KU student from Olathe, and her friends started out at 1:45 p.m. looking for a local bar or restaurant where they could watch the game.
After three strikeouts, the crew finally found seats at Henry T's, where they settled in for several hours of other NCAA Tournament basketball before getting to see their Jayhawks.
Though their passion is intense, these fans aren't so sure if they'll be able to make it to the Jayhawks' next game Thursday.
It's a long way to San Jose.
Copyright 2018 The Lawrence Journal-World. All rights reserved. This material may not be published, broadcast, rewritten or redistributed. We strive to uphold our values for every story published.