Kansas University's Sherron Collins, who had eight points off 4-of-11 shooting with two assists in 26 minutes, needed attention from the trainer in the first half.
Collins, who said he bumped knees with a Kentucky player, has been bothered by a swollen knee lately.
"He's had a banged-up knee three weeks. It swells on him. There's nothing we can do for him this time of year," KU coach Bill Self said, noting the point guard couldn't afford to take a week or so off. "He can play."
¢Wright has good, bad moments: Self was visibly upset at Julian Wright more than once Sunday, when Wright had 21 points off 8-of-12 shooting. He hit five of six free throws.
"He can live with me getting mad at him when he gets 19," Self said, noting Wright had a "dipsy-do layup instead of going up strong," as well as some other technical errors on defense.
"It was a great weekend for everybody, especially those two guys from Chicago," he added of Wright and Collins. "Today is Sherron's birthday, too. That's neat he could come here and play well."
Collins said he had a great 20th birthday.
"To get to the Sweet 16 and win back home, I can't ask for more than that," he said.
¢Windy City fun: Self, the former Illinois coach, was happy to win a pair of games in his old stomping grounds.
Photo Gallery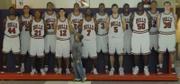 NCAA Tourney: KU vs Kentucky
"I'm always excited to come back here, to be in Chicago in early spring. The weather was not bad, either. There was a lot of green beer flowing, which I'm sure you guys enjoyed," he added of media assembled to celebrate Saturday's St. Patrick's Day.
"I got here feeling pretty good about going 30-4 and winning the Big 12 and Big 12 tournament and every question was about losing in the first round. I won't say I was uptight. I'm a little relieved now. It'd be nice to win a couple of games next week as well (in San Jose)."
¢Hinrich's talk: Ex-Jayhawk Kirk Hinrich attended and spoke to the team after the contest.
"I'm just glad I get to see it," Hinrich said of the game. "Potentially, they (Jayhawks) are a lot deeper than my senior year. They are younger, but a lot deeper. They lack tournament experience. Who knows? If they can guard teams, they have a chance to win it all.
"I didn't see them much until conference (play)," he added of following his alma mater this season. "I love their depth. They are deep in the frontcourt, deep in backcourt, but young."
¢'Beasted': Freshman power forward Darrell Arthur, who played just two minutes the first half because of foul problems, had five points and two boards in nine minutes. UK outrebounded KU, 32-30.
"They 'beasted' us, obviously," Arthur said. "Randolph Morris (eight boards) did a good job down there. We fouled him a lot."
Morris hit 14 of 16 free throws and four of eight floor shots for 22 points.
Sasha Kaun opened on Morris and had six points, three rebounds and a block in 23 minutes.
"He is obviously a great player," Kaun said of Morris. "He was a load down low. We tried to the best we could denying him the ball and making it difficult for him to get good looks."
Darnell Jackson contributed four points and four boards in 11 minutes.
"We were pretty intense on him, a little too intense in fouling him," Jackson said. "The refs told us to stop it (pushing him), but we kept doing it so they called it. We need to listen to the refs more."
¢Calm locker room: Russell Robinson, who had nine points and three assists in 25 minutes, said there was a reason there was no crazy celebration in the locker room.
KU-UK Panorama
A Panoramic Image from the Kansas-Kentucky basketball game. See the panorama >
"We expected it," he said of the team advancing to San Jose. "We were able to get out and run and get the shots we wanted."
¢Good offense: Self was elated his team could score 88 points and shoot 56.6 percent against a defensive-minded squad.
"I never dreamed we'd score 88," he said. "I thought the first one to 70 would win the game. It was a weird game. It was slow-paced, but we got some easy baskets, too."
¢Day of rest: The Jayhawks will take a day off today.
"We may meet as a team, maybe," Self said. "We won't do anything."
Of playing at 6:10 p.m. Thursday in California, he said: "It is not a disadvantage because Southern Illinois has to do the same thing. They played today as well," Self said.
Copyright 2018 The Lawrence Journal-World. All rights reserved. This material may not be published, broadcast, rewritten or redistributed. We strive to uphold our values for every story published.