Chicago — The impossible - well, the highly unlikely - was fleetingly within sight.
Kentucky was getting many of the ingredients it would need to concoct a poison strong enough to drop the dragon Kansas University in the second round of the NCAA Tournament.
Against a long, bouncy Kansas front line, Randolph Morris lived strong.
The Wildcats were getting a huge game from NCAA tourney ace Bobby Perry.
For a half, the underdog Cats even had firm control of the pace.
Lo and behold, with 17:57 left in its NCAA Tournament showdown with mighty Kansas, UK trailed by only three and had the momentum.
Then, the roof caved in on the Cats. Morris, the UK star center, got a third foul and went immediately to the bench. Explosive Kansas immediately went on a 13-2 run.
Soon enough, it was both 88-76, Kansas, and season over, Kentucky.
So if you're looking for the prime reason the Wildcats couldn't salvage a so-so season with an NCAA stunner, it was fairly simple.
In a game in which they absolutely had to make shots, UK's main three guards went as frigid as the wind blowing in off Lake Michigan.
Ramel Bradley went 1-for-6 from the floor, 1-for-5 from behind the three-point arc. Joe Crawford was 4-for-12, 2-for-7. The numbers on freshman standout Jodie Meeks were 3-for-13, 2-for-6.
Photo Gallery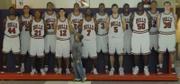 NCAA Tourney: KU vs Kentucky
That comes in at 8-for-31, 5-for-16 from three-point range.
"I thought Ramel had some good shots," UK coach Tubby Smith said. "I thought Joe was trying to make things happen. Same with Jodie."
The UK Coach then paused to examine the stat sheet.
"Whew, 8-for-31," he said.
If the NCAA Tournament really is all about guard play, you're not going to drop a one seed with perimeter shooting like that. Especially not when the top-seeded team's three starting guards - Brandon Rush (19 points), Mario Chalmers (16) and Russell Robinson (9) - combine to hit 10-of-14 three-pointers (and 14 of 22 shots overall).
To his credit, Bradley didn't let a balky shot overwhelm the rest of his game. The junior from Brooklyn had nine assists and no turnovers against withering Jayhawk pressure.
"I was playing a lot of one," Bradley said of the point guard position. "Our game plan was to go to Randolph (22 points). And Bobby (21 points) was hitting a lot of shots. I just looked to get the ball to the guys making shots."
Crawford went 4-for-12, 0-for-6 against Kansas last season in the Jayhawks' 73-46 pummeling of Kentucky in Lawrence. He fared only slightly better (the two made treys) this time.
He disputed the notion that Kansas' athleticism was the explanation. "I just didn't hit shots," he said.
In what has been a stellar first year in Kentucky blue, Meeks has rarely looked like a freshman. Sunday, he did. The Georgia product made repeated drives into the lane, but often rushed his shot.
"I needed to be more patient," he said. "I sort of got in a hurry and tried to play too fast, took some bad shots in the lane. I will learn from it."
Of course, the loss ends what was by the much-
discussed "Kentucky standards," a fairly mundane (22-12, second-round NCAA exit) season. It follows a 22-13,
second-round loss in 2006.
So, clearly, Kentucky basketball isn't where it should be.
Still, anyone venturing an opinion on the immediate future of the Cats is wasting their time. There are just far too many vital questions hanging in the air.
Contrary to the wishes of some Kentucky fans, I don't think Tubby Smith is in danger of being fired. After the game, the UK players said Smith did not talk like a coach expecting to leave.
But if he's again asked - or ordered - by the UK administration to change assistants as a means to boost Kentucky's sluggish recent recruiting, will Smith (unlike a year ago) go along?
Then there are roster issues. If Morris returns for his senior year rather than turn pro, UK should be much improved. If Morris returns and Kentucky lands coveted recruits Patrick Patterson and Jai Lucas, the Cats would be a legitimate Final Four contender.
Conversely, if Morris leaves and neither Patterson nor Lucas sign, well ...
So until we know those answers, 2008 for UK is pure mystery.
What ended 2007 isn't.
When it came to making shots against mighty Kansas, the Kentucky guards just didn't have it.
Copyright 2018 The Lawrence Journal-World. All rights reserved. This material may not be published, broadcast, rewritten or redistributed. We strive to uphold our values for every story published.