It wasn't as lopsided as, say, Kansas University's 150-95 pasting of Kentucky in 1989 at Allen Fieldhouse.
That game was a once-in-a-lifetime, surreal experience.
However, last year's 73-46 Jayhawk victory over UK proved historic in its own right - the worst beating the Wildcats have absorbed in coach Tubby Smith's 10 years in Lexington, Ky.
"It's like we ran into a bomb at Allen Fieldhouse," UK senior forward Bobby Perry said Saturday.
"We don't want to remember any part of that game. They played extremely well. We played extremely bad. The fact it was my birthday made it even worse. I just want to forget that whole day, period."
Suffice it to say, the top-seeded Jayhawks (31-4) aren't expecting a similar walk in Grant Park in today's 4 p.m., second-round NCAA Tournament matchup against the eighth-seeded Wildcats (22-11) in the United Center.
"It's a totally different game, totally different circumstances," KU junior guard Russell Robinson said. "The big guy didn't play that game."
The "big guy" just might be the best guy on the court today.
He's Randolph Morris, a 6-foot-11, 259-pound junior forward who averages 15.9 points and 7.8 rebounds per game and is coming off three straight double-doubles (65 points, 37 rebounds versus Villanova, Mississippi State and Alabama).
The KU game marked the last game of Morris' 14-game suspension for his relationship with SFX Sports Agency, a group that advised him during NBA tryout sessions prior to the 2005 Draft.
Photo Gallery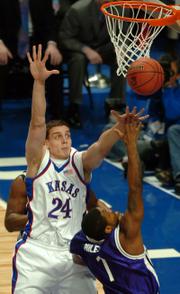 KU prepares for UK
"Randolph is our leading scorer and rebounder. He's something we didn't have last year. That's a difference in itself," UK coach Smith said. "I'm not sure he would have made a difference in Lawrence. They hit us so hard and so quickly (in leading 41-19), it took the wind out of our sails. They manhandled us in every way possible and beat us in every facet of the game. Having him will make a difference, (but) they are improved from last year. We are also."
The Jayhawks are wary of Morris.
"He's probably the best big guy we've played all season," Robinson said.
The defensive assignment, at least in the beginning, will go to 6-foot-11, 245-pound KU junior Sasha Kaun.
"He's 260 pounds, a big kid," Kaun said. "I wouldn't say it's a personal challenge. I just want to help the team."
Jayhawk coach Bill Self said Kaun won't have to face the task alone.
"No one man can do it," Self said. "We'll have to do it by committee. He is a load."
That means freshman Darrell Arthur will take a turn on Morris, who has scored in double digits in 30 of 33 games, netting a career-high 29 points with a career-best 15 rebounds in UK's SEC tournament overtime loss to Mississippi State. He has posted 12 double-doubles this season.
"From watching him, he's one of the most physical big men we'll play all year," Arthur said. "Al Horford (Florida) is a beast, but he is, too. I am focused. It's a big challenge playing against a great player like him. We will try to contain him down low. We've got to keep fresh legs on him."
KU's Brandon Rush, who erupted for 24 points in last year's rout of UK, knows Morris well. The two were teammates on the Atlanta Celtics AAU team three summers ago. NBA players Dwight Howard and Josh Smith also were members of that team.
"We didn't lose many games," Rush said. "He's really good. We have to limit his touches, pack people around him."
Morris has some incentive for today's game. He went 0-for-8 from the field and had three points in KU's 65-59 victory over the 'Cats two seasons ago at Rupp Arena in Lexington.
"I'd say I've made an 180-degree turn since then," Morris said.
Of course he isn't the Wildcats' whole show. Forward Perry and guards Joe Crawford and Ramel Bradley combined for 4-of-24 shooting, missing 11 threes without a make in the game versus KU last season.
The other starter is 6-6 freshman Derrick Jasper, who switches between point and shooting guard with Bradley.
Informed by a Kentucky media type the UK guards don't seem to like pressure defenses, KU's Robinson said: "I hope that's the case. I know they have a lot of good players."
Of course they do.
Remember, we're talking about tradition-rich Kentucky here.
"I think it'll be one of the most exciting games potentially for these players in their entire careers," KU coach Self said. "The winningest program of all time (UK, 1,948 victories) against the third-winningest (KU has 1,904 to North Carolina's 1,912).
"Playing a game with such high stakes is pretty cool. We played 'em well the last two years. They've dominated the series before that (leading 19-5). Both teams will be fired up regardless of the situation. These teams would be excited to play whether in December, January or now."
Winner advances to next Thursday's Sweet 16 contest against either Southern Illinois or Virginia Tech in San Jose, Calif. The losing team is off until next season.
"They are proud to wear Kentucky on their chest. We are proud to wear Kansas on our chest. We have to defend our school. We need to get a win," Rush said.
Copyright 2018 The Lawrence Journal-World. All rights reserved. This material may not be published, broadcast, rewritten or redistributed. We strive to uphold our values for every story published.