Chicago — Kentucky guard Ramel Bradley was whacked in the jaw by an elbow while defending Villanova's Curtis Sumpter on Friday. Woozy, Bradley hit the deck, regained his senses and then was helped off the basketball court at the end of Kentucky's 67-58 victory in the United Center.
Sumpter then shot two free throws.
"I got the foul," Bradley said with a laugh. "I wasn't sure about that one."
Bradley has his senses back and will be ready for today's second-round NCAA Tournament game against Kansas University.
And that's a good thing - there are old scores to settle with KU's Russell Robinson, who like Bradley hails from New York.
"You kind of want bragging rights," Bradley said. "I know a lot of people back home that know both of us."
Bradley and Robinson went to different high schools but developed a rivalry as two of the Big Apple's brightest young stars.
Judging by where they ended up - at two of the best college programs in America - neither really lost.
"I know Russ well," Bradley said. "The last time I remember playing against him, he played for the Gauchos, and I played for the Juice All-Stars (summer league team). I think they beat us by one point in the tournament. But I pretty much got the best of him."
Photo Gallery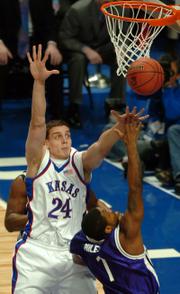 KU prepares for UK
Robinson said he played against Bradley in high school, summer hoops and on the New York playgrounds.
"It's pretty similar," Robinson said of the players' playing style. "He brings a lot to the game, but he talks more than I do."
Bradley is known for his tough defense, which led a solid team-wide effort against Villanova in the first round. But Bradley also averages better than 13 points per game and leads the Wildcats in assists.
"Ramel," UK coach Tubby Smith said, "has been the difference-maker the last few weeks."
Bradley had 11 points, four rebounds, three assists and two steals against Villanova, often letting Villanova's Scottie Reynolds hear some smack when Reynolds got the ball.
But Bradley and Robinson both know today's game will just be a little different. Squaring off against someone you have such a history with can change things.
"Me and Ramel played a lot growing up," Robinson said. "I know his game probably as well as anybody. I follow him a lot, so it should be a good game."
Copyright 2018 The Lawrence Journal-World. All rights reserved. This material may not be published, broadcast, rewritten or redistributed. We strive to uphold our values for every story published.