Chicago — Angela Haar wears a Kentucky jacket. She sports a Kentucky necklace. And she works to ensure that members of the university's expansive network of Wildcat fans can keep up with their teams on radio, television and other forms of media.
But her furniture, wall hangings and other belongings are just now leaving Lawrence.
"All my stuff just got picked up," said Haar, in Chicago as general manager for Big Blue Sports Marketing, which handles Kentucky's 10-year contract worth more than $80 million for TV, radio and other marketing outlets. "It's all in transition, and it'll show up in Lexington on Monday morning."
Haar left Lawrence in January after spending four years as general manager for ESPN Regional at Kansas University, where she helped land a $40 million, seven-year deal for marketing rights.
Haar professes to be pulling for Kentucky during tonight's game, but knows she won't be able to root against KU, either. Too many friends, too much respect, so much tradition and - in a professional sense - so much personally invested.
"At the end of the day, either Bill Self or Tubby Smith is going to win," she said. "I just love this whole situation."
She keeps her options open - a bit anyway - when asked to take sides.
"Go blue," she said with a smile.
¢Topeka resident Jack Shutt strolled in Chicago's annual St. Patrick's Day Parade, proudly sporting an oversized shamrock, a celebration sticker and his familiar KU hat.
No nerves for this retired bank auditor, playing to the masses on the off day between NCAA Tournament games at the United Center.
"This is just recreation," said Shutt, a board member for the Topeka Jayhawk Club. "It gets a little tense at the games. That's tense."
Landing a spot in the high-interest parade only added to his weekend of fun, which opened with KU's 107-67 victory Friday over Niagara. Shutt's sister works with Vi Daley, who has been alderman for Chicago's 43rd Ward since 1999.
Photo Gallery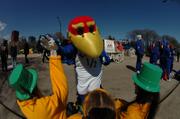 KU's St. Patrick Day parade
¢Class reunion: Josh Parsons isn't all that much of a basketball fan, but he likes to see Mario Chalmers do well.
They went to high school together at Bartlett High School in Anchorage, Alaska.
Although the two never shared a class, Parsons knew quite well that Chalmers was in his class of 2004.
"Mr. Stansburg, our algebra teacher, he wouldn't stop talking about him," Parsons said, of the man who also coached JV basketball. "He'd say, 'I think Mario's really going to go somewhere.'"
So Parsons accepted the invitation of a friend from Overland Park to attend games this weekend in Chicago. He'd get to see a fellow Golden Bear succeed as a Jayhawk.
"He's definitely good," Parsons said.
¢Bracing for beards: Bryan Cremer and most of the other 22 others guys in the KU Basketball Band aren't shaving until the Jayhawks lose.
Sousaphone player Kirsten Hoogstraten, one of seven women in the band, is looking forward the guys going Rip Van Winkle up until the Final Four in Atlanta and, for that matter, into next season.
"Bryan gets scraggly," Hoogstraten said after Friday night's game. "But if scraggly takes us to the championship, that's just fine."
Copyright 2018 The Lawrence Journal-World. All rights reserved. This material may not be published, broadcast, rewritten or redistributed. We strive to uphold our values for every story published.