Tradition will get what it wants.
It's amazing how an intangible like that works. Kansas University and the University of Kentucky will square off today in a clash of college basketball titans. And it seems that during every possession and every practice, history is watching over each program in its own way.
Take Kansas. Out-of-town media have asked question after question this weekend about how so many high school All-
Americans on the Jayhawks can play such unselfish, team-oriented basketball.
They wonder, just where are all the egos?
"The one thing about being at Kansas : Kansas is about tradition," KU coach Bill Self said. "All these guys that play on Kansas teams are never going to be the best player to play here. We can't recruit the best player that's ever going to play here. Wilt (Chamberlain) played here.
"This is a lot bigger than individuals. That is something that's embedded in their minds the first day they walk on campus."
It's proof that the past isn't done and over with - it's still hovering around these two programs constantly. Individual basketball, at least at Kansas, is the quickest way to be compared unfavorably with the greats who came before.
Photo Gallery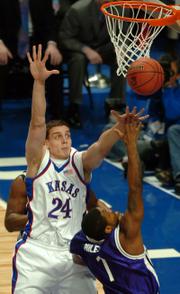 KU prepares for UK
"You've got Danny Manning in the locker room with them every day," Self said of the former Jayhawk great now on KU's staff. "No matter what you do, you're not going to do more than he did."
Kentucky players have ghosts swarming, too, and a fan base that, like KU's, has become spoiled by success. At 22-11, the Wildcats feel the heat more than they have in years.
They're taking it all in stride - as best they can.
"There's a lot of pressure on us to win," Kentucky guard Joe Crawford said. "When things aren't going perfectly, we get the most pressure put on us. But I think that's one of the reasons we all chose to come here, to play on the top level."
Today's game is an NCAA Tournament second-round game, but it's also a heavyweight battle at one of the most crucial times of the season. It may be a subtle chance to get the upper hand, too.
Kentucky leads the all-time series, 19-5. But Kansas has won the last two.
The Wildcats have more national championships. But the Jayhawks have been to the Final Four more recently.
Kentucky has more all-time victories. But Kansas is dominating that column this year, going 31-4, getting the No. 1 seed in the West region and being the consensus favorites in today's game.
One school will go home unhappy. And there is no "Aw, shucks, at least we played hard" at Kentucky or Kansas.
"That's why most people come to schools like Kentucky and Kansas," Wildcats guard Jodie Meeks said. "To be part of the tradition and part of the intensity of the fans and everything. It has a lot to do with making the decision to come to schools like this."
And that means taking the good with the bad.
The Wildcats have lost 11 games this year, sparking speculation that Tubby Smith might be in danger of losing his job. Among the traditional titans of college basketball, the Wildcats will be playing their third this season today against Kansas. So far, the Wildcats are 0-2, falling to North Carolina and UCLA during the regular season.
That posed the question: How important is it for Kentucky to find its swagger again and elevate to the likes of Kansas, UNC and UCLA?
Thinking ahead, it's a target. But thinking for now? It's the law.
"We're going to have to," Kentucky guard Ramel Bradley deadpanned. "Or else we're headed back to Lexington unhappy."
Copyright 2018 The Lawrence Journal-World. All rights reserved. This material may not be published, broadcast, rewritten or redistributed. We strive to uphold our values for every story published.