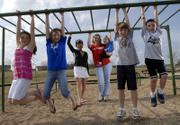 Some veteran teachers called it a hardship - taking classes to be certified to teach English as a Second Language.
And dozens of parents were worried about losing longtime teachers who didn't want to get the training.
But after dealing with the issue for more than two hours, Lawrence's school board decided on a 5-1 vote Monday night to go ahead with a controversial plan to designate Sunflower and Schwegler schools as "neighborhood" ESL schools.
However, some good news emerged from the meeting for teachers at the two schools.
After facing a packed board room of some 60 parents and about 20 Sunflower teachers, Superintendent Randy Weseman promised to work to accommodate teachers who find taking ESL training a hardship.
Teachers would need to take 15 hours of classes and three hours of student teaching to become certified in ESL.
The district would pay for the training.
Adela Solis, president of the Lawrence Education Association, said after the meeting she hoped the administration would collaborate with teachers to make the plan work.
"The staff at these schools are very bright and very professional," Solis said. "If anyone can make it work for these schools, it is the staff that are involved."
Solis said she hoped there would be flexibility for some teachers. There was concern expressed at the meeting that some teachers at the schools are nearing retirement, so they wouldn't want to commit to taking additional hours.
Also, there was concern that some teachers wouldn't be able to stay in the district and would then have to repay the district for the coursework.
"There's still a lot of things that need to be discussed," Solis said. "And it's vital that teachers are involved in that conversation."
"We are going to try to work with them," Sue Morgan, board president, said after the meeting. "I think there are teachers who are concerned and upset and I think we understand that."
However, pieces of the recommendation are fundamental to the board moving ahead to create the ESL neighborhood schools, such as getting the staff certified, Morgan said.
She said the model the board approved - having all classroom teachers at Sunflower and Schweglerbecome certified in ESL - will allow the district to deal with the growing number of students needing such services in the district.
Demographic projections indicate that in five years the number of Lawrence students needing ESL services will nearly double, exceeding 1,000 students.
Most ESL students had been going to Hillcrest School until this year, when Cordley School was designated as the second ESL cluster site.
The district's ESL task force recently recommended creating "neighborhood" sites, rather than cluster sites, so students can attend school close to their home.
Sunflower now has 65 English Language Learners in its boundary and Schwegler has 50 ELL students. Hillcrest and Cordley still will serve the remainder of the district.
Opponents speak out
Board member Craig Grant cast the only "no" vote on the measure, getting applause from parents and teachers who attended.
Kassie Shook, a first-grade teacher at Sunflower, said teachers wanted to be able to have a choice in the matter of whether they should get the ESL certification.
"We need to be heard and we need to sit down at the table with you," Shook said.
Lydia Belot, a fifth-grade teacher at Sunflower, said three members of the school's faculty, including herself, are eligible for taking early retirement. Belot said none of them wants to sign an agreement to stay on for more years to become ESL-certified.
Belot said there also were about a dozen teachers who have reached the maximum limit on the salary schedule, which typically gives salary increases for additional classwork.
Karen Ely, a parent of a first-grader at Sunflower, worried that teachers who are required to take extra classes would not be as effective at coming up with creative ways to teach students.
Jamy Taylor, another parent, was concerned what losing part of the teaching staff might do to students.
Sean Smith and Wes Ryan, both Sunflower parents, asked the board to consider not requiring teachers to repay the training cost if they decide to move from the district.
Weseman told the board he would recommend that such a regulation be revoked.
"That seems punitive to me," Weseman said.
Weseman also said that if staff members were nearing retirement, they should be waived from the ESL requirement. He said such issues need to be discussed with the staffs at each school.
Other action
In other action, the board:
¢ Recognized three administrators who will take on new duties on July 1: Kim Bodensteiner, now principal at Cordley, will become the district's chief academic officer; David Cunningham will become division director of human resources for certified employees; and Mary Rodriguez will switch from executive director of human resources to chief operations officer.
¢ Approved certified staff requests for 14.5 positions for the 2007-2008 school year, costing $677,511.
Copyright 2018 The Lawrence Journal-World. All rights reserved. This material may not be published, broadcast, rewritten or redistributed. We strive to uphold our values for every story published.