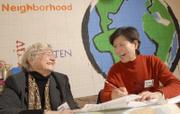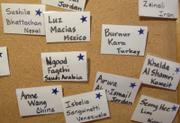 Sonia Rocha is learning English through "Chicken Soup for the Soul."
She attends the Lawrence school district's Adult Learning Center for English language classes, but "Chicken Soup" keeps her going outside class.
"I want to learn English so I can get a better job," she said. Rocha said she works at McDonald's, which pays entry-level workers $5.35 an hour.
A recent Kansas House bill that would make English the state's official language comes as Lawrence is straining to meet a burgeoning demand for English language classes.
Rocha, from Juarez, Mexico, is one of 55 students enrolled in English language classes at the center. Twenty-five more people are on the center's waiting list.
Linda McGuire, the center's facilitator, said limited funding and access to facilities have kept the center from offering more classes.
The center offers free English classes through the federal Adult Education and Family Literacy grant, which is administered by the Kansas Board of Regents. States must match the grant money with a minimum of 25 percent, according to the U.S. Department of Education.
For 2007, the center has received $84,636 in federal funds and $45,803 in state funds. The overall amount was about the same as in 2006, McGuire said.
Traditional English learners
In Lawrence, English traditionally has been taught to immigrants such as Mariapilar Rabinad, who is from Spain.
Rabinad, who attends classes at the center four days a week, said she has taken English lessons for one and a half years. She said she plans to become a U.S. citizen.
Her husband, David Nualart, is a mathematics professor at Kansas University, and her daughter is a KU freshman.
Rabinad said she likes English, but she's found that learning it is hard.
"I speak Spanish at home," she said. "That is my problem."
Other local groups, such as Small World, a nonprofit organization that teaches English to international women and their children, have taught immigrants for years.
Director Kathy Mulinazzi said 80 percent of Small World's 100 to 118 students were spouses or relatives of a KU student, visiting scholar or faculty member. Most of the women enrolled have bachelor's, master's or doctoral degrees.
Changing demographics
Recently, Small World and the Adult Learning Center have noticed an influx in international students, particularly Hispanics.
The bigger picture
The Census Bureau estimated the following percentages of residents 5 years and older spoke a language other than English at home: ¢ Lawrence: 10 percent ¢ Statewide: 9 percent ¢ Nationwide: 18 percentSource: 2000 Census Bureau data
Nationwide, the U.S. Department of Education estimated that Hispanic students comprised more than 70 percent of all participants in Englishlanguage classes in 2004 and 2005.
Programs also are seeing an increase in people with limited education.
To reach out to these learners, Small World started an introduction to its beginner class, which provides two hours a week of one-on-one tutoring. Mulinazzi said tutoring is the best way to reach these students.
The Adult Learning Center has been experiencing similar difficulties in teaching students who were not literate in their own languages.
"You're really starting at ground zero in everything," McGuire said.
Even with tutoring, Mulinazzi said, teaching these students has presented challenges to the organization's traditional classroom model.
Many of these women are housebound and rely on public transportation.
She said one student traveled an hour on the bus, with her two children, to arrive at the classroom and another hour to return home.
"These women tend to live a pretty cloistered life," she said, adding that they tend to work one or more jobs.
Even with childcare, Mulinazzi said, the women find it difficult to learn in a classroom and bring their children.
"I think that's what's holding them back," she said.
Looking to the future
As a possible solution to the need for English teachers, Mulinazzi said Small World offers KU students the opportunity to tutor through a program called "Students Tutoring for Literacy."
"I see KU students as an untapped resource," she said.
The House bill's proposed $500,000 grant for English classes could allow the Adult Learning Center to expand its offerings.
Ange White, one of four teachers for the center's English classes, said she thought most students were not overly concerned with the House bill making English the state language. If more English classes could be offered through it, she said, they might consider it a bonus.
"I don't think people often understand the level of commitment it takes," she said, "to learn a foreign language."
Learning English
¢ Adult Learning Center - This division of the Lawrence school district provides free English language classes in the morning, afternoon and evening. Office: Lawrence High School Annex Building, 2017 La.; 832-5960. ¢ Small World - This volunteer-run nonprofit organization teaches English to international women and their children. Childcare is $5 per child, for a maximum of $10 for two or more children. Tuition is $15 per semester and $25 per year. Office: First Presbyterian Church, 2415 Clinton Parkway; 841-3645. The organization is not affiliated with any church. ¢ "Project Bridge" - This tutoring service at Kansas University is for people of all ages who are learning English as a second language. Office: Kansas Union, Room 405; 864-4073. ¢ Hillcrest School - Adults, mostly parents of students, can attend English language classes one night a week. The classes are supported by volunteer instructors from KU with a minimal charge of $10 to $15 for books. Office: 1045 Hilltop Drive; 832-5720.
Copyright 2018 The Lawrence Journal-World. All rights reserved. This material may not be published, broadcast, rewritten or redistributed. We strive to uphold our values for every story published.