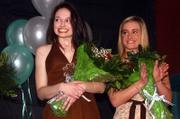 A Lawrence woman with a truly Irish-sounding name will be this year's St. Patrick's Day Parade queen.
Margaret Perkins-McGuinness, who will serve as queen of this year's parade, beat out three other women vying for the title. Perkins-McGuinness said she decided to compete for the title after working on Kids Voting with a number of the St. Patrick's Day Parade committee members.
Community service is a major part of the criteria for who is selected, and Perkins-McGuinness had so much community service that event organizers warned the audience to be prepared for quite a long list.
"I participated in a lot of activities and I had a wonderful time," she said. "The committee members are wonderful people and they have a lot of fun doing this."
Gene Shaughnessy, the parade co-chairman who led the coronation ceremony at the Flamingo Club in North Lawrence, said picking the winner from among the four finalists was one of the hardest things the committee had to do.
"That's the most difficult meeting we have, is to vote for the queen," he said. "They're all four queens in my book."
Shaughnessy said the parade committee had come up a little short of its fundraising goal this year, only raising about $35,000 for community charities. Last year, organizers raised about $50,000.
"It kind of fluctuates from year to year. This year, I think we're down a little bit," he said.
Perkins-McGuinness said she's expecting a big turnout for the Saturday event. She'll be riding in a convertible, and she's betting it's a Ford, as this year's parade grand marshal is Alan Mulally, who grew up in Lawrence and graduated from Lawrence High School and Kansas University and is now the chief executive of Ford Motor Co.
The coronation ceremony also included recognition for the parade's senior king and queen, Alan Johnson and Terri Wilson.
The couple plan to renew their wedding vows during this year's parade. This is appropriate because 19 years ago, during Lawrence's first St. Patrick's Day Parade, the couple were married.
"My recollection of that first parade is when we starting saying our vows on the bridge, it began snowing and green crepe paper was raining down on us," Johnson said.
So far, the weather doesn't look like a problem for this year's parade.
Copyright 2018 The Lawrence Journal-World. All rights reserved. This material may not be published, broadcast, rewritten or redistributed. We strive to uphold our values for every story published.