Photo Gallery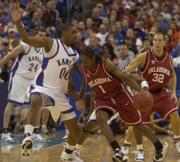 Big 12 Tourney: KU vs OU
Oklahoma City — Bill Self calls it the "perfect scenario."
The regular-season conference champion loses Saturday in the semifinals of the conference tournament, the day before the NCAA Selection Show and still holding a guaranteed No. 1 seed in the NCAA Tournament.
"You get your guys' attention, you're mad at them about losing, but still you're optimistic about moving forward," Self said Friday, after his team dispatched Oklahoma 64-47 in the Big 12 Conference Tournament quarterfinals here. "It's the perfect scenario."
But don't worry, KU fans. Self isn't about to let his Jayhawks take the court against Kansas State at 1 p.m. today to lose.
KU still has work to do to nail down a No. 1 seed in the NCAA Tournament.
"If we lose, we probably won't be (a No. 1 seed) if everyone else runs the table," Self said.
Bob Moody, a former Lawrence mayor whose conference tournament parties are something of a social happening in North Lawrence, welcomes the revelry of a Sunday championship game.
But he wouldn't mind being forced into being a disinterested viewer.
"The conference tournaments are energy-sappers," he said.
Self concedes that he'd prefer to play conference title games on Saturday, but acknowledges that the power and value of television contracts render Sunday games immovable.
Copyright 2018 The Lawrence Journal-World. All rights reserved. This material may not be published, broadcast, rewritten or redistributed. We strive to uphold our values for every story published.