Friday's victory was Bill Self's 100th at Kansas University against 28 losses. Does the 100th win mean much to KU's fourth-year coach?
"No, but I figured you'd bring it up," he cracked. "We've got a lot of work left. We're off to a good start this year. We've got to finish strong."
A check of the record books shows Larry Brown and Phog Allen reached the 100 win milestone in their 127th games at KU and Roy Williams in his 129th game.
¢ Illinois State opening: KU assistant Tim Jankovich is one of several coaches mentioned by the Bloomington (Ill.) Pantagraph as a possible replacement for Porter Moser at Illinois State. ISU's athletic director is Sheahon Zenger, who is former associate AD at Kansas State, Jankovich's alma mater. He also worked at Kansas. Moser was fired last week after serving four years as Redbirds' coach.
¢ Jackson misses slam: Darnell Jackson, whose mom, sister, uncle and two aunts were seated a few rows behind the KU bench, had five rebounds in 16 minutes. He missed six shots, including a dunk try. The errant dunk rocketed high in the air.
"I had one like that against Detroit," the Oklahoma City native said. "I was just trying to get to the rim.
"I wasn't nervous today. The shots were not falling."
¢ No. 1 talk: Did KU wrap up a No. 1 seed Friday? "No. There's work to do," Self said. "We better play tomorrow. There's a lot of teams with chances to win their tournaments, too."
¢ Screech: Self's postgame interview at the podium was interrupted by a loud screech of the microphone. "If coach Knight had been here, he would have walked out right now," Self said of fiery Tech coach Bob Knight.
¢ Recruit scores 60: Jankovich was one of several college coaches on hand to watch Rotnei Clarke explode for 60 points in Verdigris High's 90-68 victory over Vian on Thursday night in Choctaw, Okla. Clark, a 5-foot-10 junior guard, is considering KU, Oklahoma, Oklahoma State, Tulsa and many others. Clark's 60 points were most by a player in Oklahoma state tourney history.
¢ Subbing: Self was asked about removing his best players with 3:40 left, then again at 1:30 in a blowout. "The only primary player in the game late was Julian (Wright), and that's because he hadn't played the whole game (because of foul trouble). I wanted him to see something good happen. I put everybody else in to sub, and we didn't get a stoppage, so I called the timeout (at 1:30). There was no rhyme or reason. We weren't doing anything to try to embarrass anybody."
Photo Gallery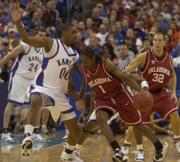 Big 12 Tourney: KU vs OU
¢ This, that: Mario Chalmers tied a career high with two blocks. : Russell Robinson had three steals for the 11th time of his career. : OU's four second-half field goals were the fewest by a KU opponent since Jan. 24, 1998, when Texas Tech also had four in the first half. School record is three field goals in a half by Cornell in 1996. : KU has won 11 straight Big 12 tourney openers.
Copyright 2018 The Lawrence Journal-World. All rights reserved. This material may not be published, broadcast, rewritten or redistributed. We strive to uphold our values for every story published.