Photo Gallery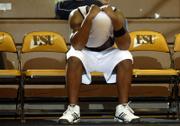 FSHS vs. Blue Valley West
Emporia — As members of the Free State High boys basketball team walked out of the locker room after Friday night's Class 6A semifinal, family and friends clapped in unison in a compact hallway that reverberated the applause.
It was the first time all season the Firebirds lost a game and generated public applause at the same time. Free State lost, 52-41, to Blue Valley West in White Auditorium.
Free State will face Washburn Rural at noon today in the third-place game.
Free State didn't lose Friday night's game due to a lack of hustle. On one occasion, senior guard Nick Devin went after a steal and slid about five feet out of bounds, striking the sideline table in the process. On a different occasion, senior center Christian Ballard tipped in an attempted jump hook by Devin and tumbled about five feet past the baseline near the cheerleaders' section. Ballard immediately bounced up and sprinted down the floor to guard Blue Valley center Robert Lewandowski.
The Firebirds, who went 9-11 in the regular season, won two games at sub-state, then upset top-seeded Shawnee Mission West for the school's first state playoff victory before the Jaguars stopped their title run.
"Even in a loss, they wear the uniform in a way that gives me a great deal of pride and gives our school a great deal of pride," Free State coach Chuck Law said. "The way our fans acknowledged our guys when they walked off the court shows how much respect there is for the guys and how hard it is that they played."
Ballard likely had the most difficult assignment of the night, defending the 6-foot-9 Lewandowski. Ballard, at 6-4, did an admirable job and held Lewandowski in single digits with nine.
Lewandowski made his presence known in other ways, though, particularly on defense. Free State didn't seem to have a clear path to the basket all night. Lewandowski and his long wing span rejected eight Free State shots. He also had eight rebounds.
"I was trying to go for a lot of jump hooks, and once I started pushing him around the basket, I thought I could get some easy drop steps, so I went up, but he seemed to block them all," Ballard said. "It's so frustrating. I wanted to show him up a little too much, but obviously it didn't work."
Ballard managed to arch two jump hooks over the outstretched arms of Lewandowski. The senior center played well, accounting for 14 points and nine rebounds to lead Free State.
Lewandowski played all 32 minutes for BV West. Law typically gives Ballard numerous breathers, but was forced to keep Ballard in the game for 29 minutes Friday with such a massive opposing presence.
"He's a senior, and it's hard for me to pull him out of the game," Law said of Ballard. "He wanted to play so bad."
It's fair to say anyone who watched Friday's game noticed Free State's need to have Ballard on the floor.
BV West ran the majority of its offense through Lewandowski, and he didn't camp out underneath the basket. The Jaguars ran a complex offense that featured Lewandowski setting numerous picks for guards, then posting up near the paint. Free State collapsed on Lewandowski on several occasions, leaving BV West guard Matt Besler open on several occasions.
"He's arguably the best player in the state of Kansas," Law said of Lewandowski. "You could certainly make a very strong case for him. Defensively, he's a presence in the paint like we haven't faced all year long. His presence and size changed shots, and obviously with the eight blocks, he dominated the basketball game."
Besler had a game-high 18 points, including four three-pointers.
Lewandowski also possessed control on the defensive end. Free State repetitively drove down the lane at the big man, with the intent of drawing him into foul trouble. Lewandowski didn't rest once during the game and only picked up two fouls.
"We didn't want to be scared of him," junior forward Weston Wiebe said. "We just wanted to attack him and see if we could get him in foul trouble. It just didn't work out how he wanted it to."
Wiebe said despite the loss, team morale was still high after the game.
"Coach Law talked about at the beginning of the season, if we said we had an opportunity to play for third place in the state, he would take it," Wiebe said. "None of us really expected this early on. It's hard to lose, but we're definitely thankful to get this far."
Copyright 2018 The Lawrence Journal-World. All rights reserved. This material may not be published, broadcast, rewritten or redistributed. We strive to uphold our values for every story published.