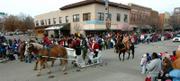 Lawrence is gaining popularity among folks from out of town, and the visitors are spending more money before they leave, according to a new report.
The increases came despite a downturn in convention activity and a decline in the number of visitors - and share of out-of-state tourists - checking in at the city's main visitor information center, according to a report from the Lawrence Convention & Visitors Bureau.
The city attracted an estimated 792,757 visitors for day trips and overnight stays last year, up 40,311, or 5.4 percent, from a year earlier, according to the report. About 56 percent of visitors stayed overnight, the same percentage as in 2005.
Visitors spent $46.13 million while in town last year, according to the report. That's up $4.13 million, or 9.8 percent, from 2005.
"We've got a pretty strong market right now," said Judy Billings, director of the bureau and an executive vice president for the Lawrence Chamber of Commerce. "I've seen this happen before. I'm old enough to have watched this through the Gulf War, seen our numbers take a dive, then build back up to 9/11, then take a dive again, and now they're building back up."
The spending produced $922,626 in local sales tax revenue, up $82,467 from the total in the bureau's report for 2005, the report said. The increased spending came despite decreased activity for meetings, conventions and sporting events, according to the bureau:
¢ The city had 184 conventions and meetings in 2006, down 27 percent from 252 a year earlier.
¢ Organizers reported they had 23,500 attendees for the year, also down 27 percent from 32,073 in 2005.
¢ The bureau calculated the economic impact of last year's conventions and meetings at $2.26 million, down 22 percent from $2.89 million in 2005.
¢ Sporting events also saw a downturn, with 25 such events (not including ones connected with Kansas University) conducted during 2006. That's down 53 percent from the 52 conducted a year earlier. Spending connected with such events also declined, to $1.7 million last year from $2.9 million a year earlier.
Billings attributes much of the sporting decline to the sale and conversion of Sport 2 Sport, 5200 Clinton Parkway, into First Serve Tennis Center. The community also lost a major youth softball tournament, but that will be back for this year.
"It's a big deal," Billings said.
The city's largest convention space - the Lawrence Holidome, 200 McDonald Drive - recently went through an ownership change and embarked on renovations intended to make the 192-room hotel more attractive to convention organizers. Hulsing Hotels Inc. started work expanding the hotel's sports bar and overhauling its restaurant concept.
Billings said the bureau was dedicating a new staff person to marketing the community for conventions and meetings.
The Convention & Visitors Bureau also reported that its Lawrence Visitor Center, inside the Union Pacific Depot in North Lawrence, attracted fewer registered visitors last year than in 2005.
The center welcomed 10,086 registered guests last year, down 2,615, or 20 percent, from 2005. The percentage of registered visitors from out of state was 38 last year, down from 47 percent in 2005.
The number of calls coming into the center dropped to 2,119 last year, down 20 percent from the 2,634 calls received in 2005.
Copyright 2018 The Lawrence Journal-World. All rights reserved. This material may not be published, broadcast, rewritten or redistributed. We strive to uphold our values for every story published.