Oklahoma City — Make no mistake about it: Oklahoma University's basketball team still respects the heck out of Kansas University, even after giving the Jayhawks a scare two weeks ago.
"Everything impresses me about them," OU coach Jeff Capel said. "They are very, very good."
The Sooners will play the Jayhawks at 11:30 a.m. today in the Ford Center, after Oklahoma knocked off Iowa State, 68-63, Thursday in the Big 12 tournament's opening game.
Oklahoma jumped to a big lead against the Cyclones and then held on for dear life. Iowa State, in fact, erased a 14-point deficit and took a 56-55 lead, but Oklahoma scored the next eight points to take over for good.
"We knew they were going to make a run," said OU forward Nate Carter, who had 22 points and nine rebounds. "We just had to clamp down on defense. It was just how we were going to respond, and we responded well."
The Sooners, however, showed how thin they were, particularly without Michael Neal. Sidelined by the flu, Neal didn't play Thursday, though he expects to be ready today.
Oklahoma played just seven players.
OU got no points and three boards from the bench and still managed to outscore and outrebound the Cyclones.
All five starters did their part for OU. Only Bobby Maze, with nine points, failed to reach double figures. Maze also was the only starter not to play at least 30 minutes, though the Sooners insisted they weren't tired by the end of the game.
"We did a lot of running and a lot of conditioning that's kicking in right now," said David Godbold, who had 11 points. "It's helping us for the last push through. Coach said if we get tired, we're not going to win."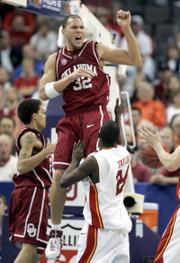 The fatigue will have to endure the most trying point on the schedule. Not only will Kansas be the Sooners' second game in two days, but Kansas also is the top seed in the tournament and arguably the hottest team in college basketball.
Kansas topped Oklahoma, 67-65, in Norman on Feb. 26. It was KU's closest game in its current eight-game winning streak.
"They have a lot of great players," Godbold said. "We have to prepare one by one, one step at a time to hopefully stay close in the game. Hopefully, we can come out on top."
KU assistants Kurtis Townsend and Tim Jankovich watched the game from press row.
"I don't know if they'll play us the exact way they played Iowa State," Townsend said, "but the first time we played them, we didn't handle their press great in the second half. I'm sure they'll try to do that again."
The second half of that game was highlighted by OU's furious comeback, which ultimately was thwarted when the Jayhawks came through at the foul stripe.
Capel drew a technical during the game, while Kansas shot 34 free throws, many of them late. Apparently, it's still a sore spot with OU's first-year coach.
"I thought we did a very good job against them in the second half," Capel said. "We just haven't figured out how to guard the free-throw line yet. Maybe if we can guard the free-throw line and they don't get (34) free throws in the second half, maybe we will have a better chance."
Copyright 2018 The Lawrence Journal-World. All rights reserved. This material may not be published, broadcast, rewritten or redistributed. We strive to uphold our values for every story published.