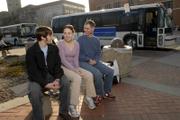 For the general student body, the buses on the Kansas University campus can be an annoyance. With their tailpipes low to the ground, the buses rumble down Jayhawk Boulevard spitting clouds of diesel exhaust in students' faces.
For students with disabilities, the buses are worse than smog in the face: They're a slap in the face because they aren't compliant with the Americans with Disabilities Act.
"We all pay the same fees and tuition, and yet we can't use the buses," said Katey Birge, a senior from Denver who is president of AbleHawks, a campus advocacy group that helps fellow students with disabilities.
KU leaders say both problems will be alleviated with a plan passed by the KU Student Senate. Last week Student Senate voted to institute a $20-per-semester fee to pay for a fleet of 30 newer buses, accessible to people with disabilities, that are scheduled to arrive on campus in the fall.
The buses will be equipped to run on a biodiesel blend and will have a top-mounted exhaust system, said KU student Jessica Mortinger, the campus transportation coordinator.
"I think the biggest impact is just going to be to the everyday student just walking down campus and not having to choke on fumes," Mortinger said. "We get a lot of complaints about buses spewing black fumes."
Newer buses emit less pollution because environmental standards for buses have become stricter each year in recent decades, said Bob Bourne, an Ames, Iowa-based consultant hired by the university. For example, a diesel bus built in 1988 is allowed to emit more than twice as much nitrogen oxide as a bus built in 1991.
The existing buses used by KU, owned by Lawrence Bus Co., were built in the 1980s; the buses KU will buy in coming weeks were made in the early 1990s.
"We don't have prices yet : we should have proposals in by early next week," Bourne said.
All buses will be ADA-compliant, Mortinger said, either through low floors that don't require riders to climb stairs or through lift equipment.
Birge, who has rheumatoid arthritis, won't be around to use the buses because she's graduating in the spring. But she said she's "ecstatic" about the plan and the fact that students in future years "won't have to fight for it."
Zach Coble, 22, a senior from Winfield who is past president of AbleHawks, said he is able to ride the buses despite his cerebral palsy. But he hasn't used them in recent years as a matter of principle.
"I see this as something that all people with disabilities should care about, whether they're personally affected or not," he said.
Student Senate voted for the $20 fee increase only after a failed effort to get the general student body to vote on the issue. In a special election last month, only 5 percent of KU students turned out to vote - half the number required to make it a valid election.
A second question- whether to add a $15 fee to make bus rides free with a KUID card - is pending in Student Senate and could be put to another campuswide vote later this spring.
Copyright 2017 The Lawrence Journal-World. All rights reserved. This material may not be published, broadcast, rewritten or redistributed. We strive to uphold our values for every story published.