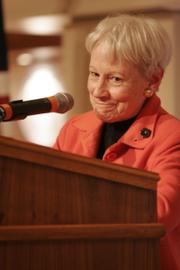 For Nancy Kassebaum Baker, there's one overarching positive aspect about women having served as a U.S. Secretary of State, speaker of the House and one being a strong contender for a presidential nomination.
"The good thing is it's no longer a big deal," Kassebaum Baker told a crowd of more than 300 at the Dole Institute of Politics.
Kassebaum Baker, the 19-year former senator from Kansas, returned to Kansas University, where she earned a political science degree, to give the Emily Taylor and Marilyn Stokstad Women's Leadership Lecture.
Her father, former Kansas Gov. Alf Landon, who ran for president in 1936, once questioned what Kassebaum Baker would be able to do with a political science degree.
It would play a small part in her becoming the first female senator who reached office without first having served in the House of Representatives or received an appointment to fill a deceased spouse's term.
The composition of the United States Senate has changed since she took office in 1978; now 16 women serve among 100 U.S. senators.
Kassebaum Baker helped pen health care legislation as a senator, and she took questions from the audience about the subject.
The first: If Kassebaum Baker were in charge, how would she achieve universal health care in the United States?
Kassebaum Baker said that was a similar debate that the Senate had 14 years ago. The answer, she said, is in finding some way to pay for health care coverage for an entire country.
"There has to be a way to combine what's worked in the U.K. and what hasn't worked," she said, referring to Great Britain's public care system.
"It will be interesting to see what Massachusetts and California do with their initiatives and see what we can learn from them."
Kassebaum Baker's lecture, which lasted about an hour, was worth the time for one Lawrence resident who's long admired the former senator.
Joe Spradlin said he appreciated what he called Kassebaum Baker's positive attitude and "her ability to break from the (Republican)party when it was in the country's best interests to do so."
Copyright 2018 The Lawrence Journal-World. All rights reserved. This material may not be published, broadcast, rewritten or redistributed. We strive to uphold our values for every story published.