Ask Chuck Law how he feels about coaching the Free State High boys basketball team to the state tournament in his first official season and you won't even come close to hearing the word "I."
"The 12 players on this team are the reason we are where we are right now," Law said.
It's simply not Law's style to take sole credit for putting this season's Firebirds in position to win their first state playoff basketball game in school history.
He'd rather shine the limelight on seniors like Christian Ballard, Kyle Schreiner and Nick Devin. He'd rather give credit to a senior like Jamar Reese, who might not get as much playing time, but makes the starters considerably better in practice with his commitment to the program.
Building A Program
Free State's 9-11 regular season record will essentially be irrelevant Wednesday in Emporia. Law is in the midst of building a basketball program at Free State. Sub-state victories against Shawnee Mission Northwest and Olathe South - two teams the Firebirds lost to in the regular season - suggest Law is heading down the proper path.
"If you do things the right way and get a program established, then winning games and postseason opportunities are a product of that," Law said. "For me, it's been about trying to establish expectations for our young men both on and off the court. That's a multiple-year process. Going to state this particular year is a bonus."
Before he was named interim coach last season, Law had been an assistant at Free State since 1999. His players know part of his philosophy stretches beyond the basketball court.
"I've loved having him as a coach," Devin said. "I don't think you could pick anybody better. He's taught me a lot more than basketball, like doing everything to the best of your ability every single day. If you look at yourself in the mirror at the end of the day, you'll be able to tell yourself you didn't slack off in anything."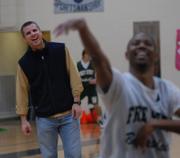 Life Before Free State
Law, 39, grew up in Emporia. Before he coached basketball, he began his career in the accounting business in Kansas City.
"I started out as a suit-and-tie guy," Law said. "It didn't take me very long to figure out the business world wasn't something I was cut out to do."
Law left the accounting industry to become an assistant basketball coach at Emporia High from 1993 to 1998. He said one of his two mentors was Emporia coach Rick Bloomquist. Law's other mentor was Jack Schreiner.
"Both the gentlemen I worked for have shaped to a great extent who I am as a basketball coach," Law said. "You can't work with somebody for five years like I did with coach Bloomquist, and six years with coach Schreiner, and have that not shape who you are as a coach."
Learning on the Fly
Schreiner resigned two weeks before last season began. As a result, Law didn't have much time to implement his system. Free State finished 8-13 last season and lost to Topeka High in the first round of the sub-state tournament.
"It was a challenge," Law said. "There were a lot of things that we did that were similar to what we had done under coach Schreiner. He's had a tremendous impact on what it is we do here. But there were some things that were different and some things I wanted to do on my own to establish my own identity as a coach. It was difficult to kind of piece that together."
Taking Page Out of Self's Book
Before the basketball season starts, Law makes various trips to Allen Fieldhouse to watch Kansas University coach Bill Self conduct practices.
"He's been very helpful," Law said of Self. "He doesn't necessarily have to take time from his practice to talk to me or our staff, but he does. He's always very curious to see how we're doing and very supportive, and I appreciate that."
Law said he took particular notice to how Self interacted with his players.
"Coach Self is pretty loose with his players, especially before practice," Law said. "When practice is going on, it's all business. But he has a great rapport with his players, which is ultimately the most important thing."
Law frequently speaks to KU administrative assistant Brett Ballard for advice as well.
"I actually spoke with Brett on Friday about what they were going to do to try and guard (Texas freshman forward) Kevin Durant," Law said. "I tried to apply that to when we guarded (Olathe South senior forward) Denver Holmes, because I thought on a relative basis, they were both great inside-out players."
Obviously, the talk worked. Holmes only scored nine points in last Friday's sub-state final against Free State.
Teacher before Coach
"I think one of his strongest attributes is that he's a teacher first and a coach second," Free State athletic director Steve Grant said. "What impresses me the most is he's very fair with the kids. They respect him and he respects them."
Law has won the Outstanding Educator award, which Free State seniors vote on, three times - in 2001, 2004 and 2006.
"The thing that a lot of people neglect to consider about high school coaches is that six hours a day we're also classroom teachers," Law said. "I take tremendous pride in what I get done in the classroom in addition to what I try to get done on the basketball court."
Copyright 2018 The Lawrence Journal-World. All rights reserved. This material may not be published, broadcast, rewritten or redistributed. We strive to uphold our values for every story published.