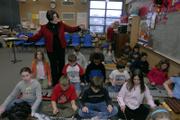 For more than three decades, thousands of children have benefited from Susan Ralston's keen auditory sense.
But after this year, Ralston is retiring her perfect pitch from the classroom. "I wanted to go out when I was still enjoying it," the 59-year-old Schwegler School vocal music teacher said.
Like a growing number of 50-somethings in the education profession, Ralston is taking advantage of early retirement. It's a benefit in the contract negotiated between Lawrence's teachers and the school district.
"It's encouraging to stop while you're still doing a wonderful job, and not feeling like you have to keep on teaching until you're 65," Ralston said.
Educators say early retirement is a reward for teaching the community's next generation.
However, as more and more teachers meet the early retirement criteria, the cost to the school district has climbed to well over $1 million a year.
"The tug-of-war here is continuing to support this benefit and being able to find monies to be able to fund competitive salaries," said Randy Weseman, Lawrence's superintendent.
Budget crunch
The strain the benefit has created on the district's budget has led to the issue to become part of this year's teacher contract negotiations.
The school district and the Lawrence Education Association, which represents the district's 900-plus teachers, have formed a subcommittee to look into the early retirement issue and how to pay for it.
"It does help us keep employees here," Weseman said.
But with more teachers using it, it's hard to sustain for a long period "without some tweaking," he said. "To what degree that happens is up to the negotiations subcommittee."
Kim Bodensteiner, lead negotiator for the school board, said the district would not consider taking away retirement benefits from current employees.
"We're not looking at pulling the rug out from under people who are approaching retirement age," Bodensteiner said.
However, there are a lot of them - 42 percent of the district's teachers are 50 years old or older.
Bodensteiner said the growth in early retirement has been substantial:
l In 2002, 58 teachers received early retirement benefits. The total payout to them was $639,118, with the average amount per teacher being $11,019.
l In 2006, 91 teachers received early retirement, which was a 57 percent increase over 2002. The benefit payout was $1,068,112, which is a 67 percent increase over the 2002 payments. The average amount per teacher was $11,737.
Even more teachers are retiring this year.
The deadline was midnight Wednesday for eligible teachers to notify the district that they planned to use early retirement next year. Twenty teachers did so on Wednesday, in addition to others who had declared their intent ahead of the deadline.
Bodensteiner said she didn't know yet what that would mean to the district yet in terms of costs for next year.
'Do it smarter'
Adela Solis, LEA president, said there was no move to eliminate the program.
"We just need to do it smarter than we probably have done in the past," she said. "When this system was set up, it was cost-neutral to the district."
At one time, teachers who were retiring early at a higher salary were being replaced predominantly by younger people at a lower salary. And that difference paid for the program, Solis said.
"But that was back in the days when health care was reasonably priced," she said. "It's been around for quite some time, and we just need to look at how we're doing this."
Teachers are not in a highly paid profession, so they see early retirement as an incentive to remain in it longer, she said.
"We don't get a lot of the perks that other professionals do," Solis said. "And this is a way that we take care of our own. It's a way for us to acknowledge people who have devoted their careers to educating young people of the community. ... I can't think of any more important job than that."
'Worn out'
Ralston said her No. 1 reason for retiring a few years early was her health.
"My voice is giving me a lot of difficulties," she said. "I'm sure you can imagine, after singing with children for 38 years. I have to wear a microphone when I'm teaching because I get hoarse at the end of the day. My voice is just worn out."
Ralston taught six years in the Shawnee Mission school district before coming to Lawrence 32 years ago.
"It takes an incredible amount of energy to teach the little children," Ralston said, laughing.
"I don't think I'll miss the exhaustion at the end of the day," she said. "But I will miss the children."
Early retirement requirements
Following are the eligibility clause and the benefits clause of the Early Retirement article in the master agreement between Lawrence's teachers and the school board:Eligibility - Any employee is eligible for early retirement if such employee: (a) is currently a full-time or part-time employee of the school district, (b) has 15 years or more of full-time or full-time equivalency employment service with the school district, (c) has 20 years or more of service credit recognized by Kansas Public Employees Retirement System (KPERS), and (d) must have reached his/her 57th birthday on or by Sept. 1, in the year in which she/he retires, and have not reached retirement age as provided pursuant to 42 U.S.C. $ 416 (l)(I) of the Social Security Act on or by Aug. 31 in the year which she/he retires. ¢ Any employee is also eligible for early retirement if such employee's combined age and years of service credit in KPERS totals 85 "points" and such employee meets the above (a) and (b) requirements. ¢ Eligibility for early retirement shall be determined by the KPERS designee (payroll department). ¢ Any employee applying for early retirement shall have the responsibility to provide all facts and information necessary to prove eligibility for early retirement and to verify benefits to be paid. Early Retirement Benefits - The annual early retirement benefit for full-time or part-time employees who meet all the eligibility requirements shall be a sum of money equal to the product of (a) the number of years' service credit recognized by KPERS for such employee, multiplied by (b) the largest base salary received by the employee as a result of employment with the school district during any one of five immediately preceding school years (July 1 through June 30), multiplied by (c) a factor of .006.
Copyright 2018 The Lawrence Journal-World. All rights reserved. This material may not be published, broadcast, rewritten or redistributed. We strive to uphold our values for every story published.