Chat about teacher retirement and other school issues with Supt. Randy Weseman and Adela Solis, LEA president
March 5, 2007
This chat has already taken place. Read the transcript below.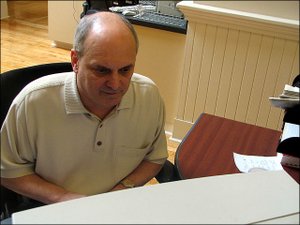 Randy Weseman, superintendent of Lawrence schools, and Adela Solis, president of the Lawrence Education Association, will discuss a looming wave of teacher retirements. Ask them about that and other school issues Monday.
Moderator:
Hello and welcome to our chat today about early retirement in Lawrence public schools. We have Supt. Randy Weseman and Adela Solis, president of the LEA, with us today. I'm Dave Toplikar and I cover the K-12 education beat for the Journal-World and I'll be moderating today's chat.
We have a lot of questions already in the hopper, so we'll go ahead and get
Randy Weseman and Adela Solis:
Always good to be here at the Journal World.
Mr. Weseman - Thanks for your commitment to Lawrence kids. Given the number of teachers that will retire in the next decade as well as your experience in education, would you encourage today's students to consider the field? Thanks!
Randy Weseman and Adela Solis:
Yes Indeed........It is challenging but rewarding profession and we need talented young people to step forward. Although it is very difficult to replace years of experienced and dedicated staff, we look forward to the next generation of educators.
ryn:
For how many years do teachers draw the early retirement benefits?
Randy Weseman and Adela Solis:
Five years of benefits or until one reaches the age of 65.
WE moved from Lawrence to Chapel Hill, NC a few years ago. The towns are very similar in make up, size, cost... but the school districts are miles apart. Even though NC does not fund well, and frankly I'm not sure NC has much history in supporting education, Chapel HIll has many things that Lawrence does not - all day kindergarten, foreign language for all students, starting in kindergarten, ESL in all schools, buses for students who even live near the school, two bilingual elemenary schools (Chinese and Spanish), no portable classrooms, etc - they are even finishing a high school and elementary school for next year. How is it that my child can have all this here, and would not have if we had stayed in Lawrence? How can the districts be so very different? What can Lawrence do to compete?
Randy Weseman and Adela Solis:
You have already identified the primary factor which is level of state funding and what specifically the state targets for funding. In reality,NC funds very well, particularly for at risk and early childhood programs. Also, school size and access to local, district specific levies impact the overall structure of program offerings.
I am confused, does the district give more money above the KPERS amount for teacher taking the option to retire early?
Randy Weseman and Adela Solis:
The district's early retirement program is distinct from KPERS. Not all employees will ultimately qualify for early retirement. The program rewards those who devoted the major portion of their careers to USD 497. Qualification requires a minimum of 15 plus years of service in Lawrence and elgibility for KEPERS retirement.
Does USD 497 prepare a forward-looking assessment of the likely incidence of early retirements and the effects on staffing needs and financial liabilities?
In particular, I'm envisioning an annual or biennial report that looks at teacher demographics in terms of age and tenure -- cross-sectionally by expertise (especially science and math) -- and that then identifies windows of vulnerability in terms of potential staffing losses due to retirements. Similarly, the report would project the financial liabilities associated with early retirements out into the future.
Anything like that available from USD 497? If so, where can I find it? If not, why not?
Randy Weseman and Adela Solis:
Yes, we have these data. The negotiations team is using the data to facilitate decisions for long range planning. You may access this information through our business office.
Are there survivor benefits (other than the KPERS benefits) associated with district's early retirement benefit? In other words, does the obligation expire with the death of the retiree?
Randy Weseman and Adela Solis:
The benefits terminates after five years, age 65 or death. No survivor benefits.
Mr. Weseman or Ms. Solis, Kansas is renowned for being among the best in the nation for educating our children for the future. Having said that, in your views, what are the necessary steps to attract the best qualified teachers & provide the best compensation package possible once they are hired? Thank you.
Randy Weseman and Adela Solis:
Excellent question. Our ability to attract and retrain great teachers is directly correlated with our ability to compensate them with a strong competitive salary and a robust fringe benefit package. Currently, the early retirement benefit is a strong component of that fringe package. Furthermore, working conditions, including the ablility of staff to work together and empower one another are often identified by staff as attractive benefits.
Low class size was a priority of the district a few years ago. The evidence supports class sizes of around 17 to 18 students from KG through grade 3. What has happened to the district's committment to this? Does the class size committee even meet any more?
Thanks
Randy Weseman and Adela Solis:
Class size is always a priority. Naturally, it is a funding issue and there are many demands and requests to our finite budget. The class size committee has not met in several years but the goal of continued class size reduction remains a high priority. The board will consider staffing pattern senarios at its March 12 meeting.
SB1:
It seems as though our mill levies continue to increase every year even though property values increase (which should provide enough new funding annually to USD 497). Senior citizens are especially strapped to meet ever-increasing taxing costs of the city, county and school district. When can we count on you and the school board to pull back the increases?
Randy Weseman and Adela Solis:
Your questions is one that we consider on a daily basis. The school board and school community are sensitive about the overall impact of levies on patrons. However, current school finance law places much of the burden on the local levy. Specifically, the local option budget and now the cost of living allowance. As you know, this community has high expectations and we believe our children deserve the best we can provide. Achieving the appropriate balance of funding and taxation is complex.
Why is there NOT a "Parent's Bill of Rights"?
Don't you think there should be one?
Randy Weseman and Adela Solis:
We are open to suggestions. Frankly, board policy "is" a parent's "bill of rights." Board policy is constantly being reviewed and revised. Currently we are refining our policy on "bullying." The policy manual may be accessed through our website.
What characteristics and background do you look for when hiring a building principal?
Randy Weseman and Adela Solis:
Spend an afternoon with Kim Bodensteiner (Principal at Cordley) or Paulette Strong (Quail). These principals posess all the characteristics required to be a quality principal. The hiring of a school principal is a very involved process. Staff, parents and even students are asked to participate in the selection process. If you have the ability to leap tall building at a single bound and are faster than a speeding bullet, please forward your application to our human resources division.
Moderator:
That's all the questions we have for today. Adela and Randy, thanks for coming down to the News Center today to take so many questions about retirement and about other educational topics. And I'd like to thank our readers for participating.
Randy Weseman and Adela Solis:
Thanks for having us....
Adela and Randy