A tight family budget prevented Judi O'Grady from traveling Tuesday to Washington, D.C., to lobby for funds for children's cancer research, but she doesn't want a tight federal budget to slow research into lifesaving cures and treatments.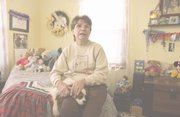 "We need to get as many congressmen behind us as possible," said O'Grady, a Eudora woman whose youngest child, Brooke, died of cancer in 2001 at age 15.
O'Grady serves as the Kansas team leader for an organization called CureSearch, a children's oncology group that represents health care professionals and researchers.
Since Brooke's death, O'Grady has regularly gone to Washington to lobby for cancer research funds.
On Tuesday, more than 350 parents and children who have or had cancer were on Capitol Hill urging Congress to support the Conquer Childhood Cancer Act of 2007, which would authorize $150 million over five years in pediatric oncology research funding.
O'Grady said sometimes it is difficult for people to comprehend that cancer affects children.
"It's hard for us to reach people because no one wants to believe that children get cancer," she said.
Cancer is diagnosed in more than 12,500 children nationwide each year and 2,300 die annually from the disease.
And while cure rates have gone from below 10 percent to 78 percent in 40 years, O'Grady said the figure can be misleading because children are considered cured if they become cancer free, even if that is briefly.
Copyright 2018 The Lawrence Journal-World. All rights reserved. This material may not be published, broadcast, rewritten or redistributed. We strive to uphold our values for every story published.