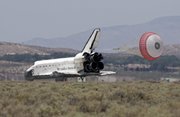 Edwards Air Force Base, Calif. — Atlantis and its seven astronauts took a cross-country detour and landed safely in the Mojave Desert on Friday, ending a two-week mission of construction on the international space station and bringing a crew member home from the outpost.
Atlantis' homecoming was the 51st time a space shuttle touched down at the Edwards Air Force Base since 1981.
"It's just great to be back on planet Earth," shuttle commander Rick Sturckow said while standing on the tarmac. "There were a lot of challenges on this mission and they were all dramatic. All the solutions worked well."
NASA had hoped to bring Atlantis home to Florida, but bad weather two days straight forced them to divert it to California - a move that will cost $1.7 million because the shuttle has to be ferried back to Kennedy Space Center atop a jumbo jet.
NASA's first manned flight of the year provided a much needed image boost for the space agency. It had been dogged by distractions this year, including a bizarre astronaut love triangle and a murder-suicide involving a disgruntled contractor that sullied its reputation.
"It's a good day for NASA," NASA associate administrator Rex Gevden said during a post-landing news conference.
Astronaut Sunita "Suni" Williams returned to Earth on Atlantis after spending more than six months at the space station. She set an endurance record for the longest single spaceflight by a woman at 195 days. During her stay, she also set the record for most time spacewalking by a woman.
Copyright 2018 The Associated Press. All rights reserved. This material may not be published, broadcast, rewritten or redistributed. We strive to uphold our values for every story published.