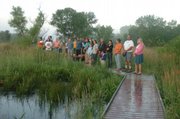 Last year, Paige Stonerock attended the sunrise ceremony on the first day of summer, and the group was greeted by deer.
"It was like everything came together at once to say, 'This is an incredible place,'" said Stonerock, a Lawrence resident.
While no deer made an appearance this year, it didn't stop nearly 20 people from sharing stories and prayers with each other Thursday morning. Lawrence resident Jeremy Shields sang a song to greet the sun and the group formed a circle to pass around a tobacco offering while greeting one another.
Thursday morning's ceremony, sponsored by Save the Wakarusa Wetlands Inc. and the Morning Star Institute, was in observance of the 2007 National Day of Prayer to Protect Native American Sacred Places. In its fourth year, it was one of 15 ceremonies to take place in the United States.
"There are ceremonies like this at some time during the day, usually at sunrise, on wetlands that are threatened like this," said Mike Caron, an advocate with the Save the Wakarusa Wetlands Inc.
The wetlands have been mired in controversy for the last few years, as the Federal Highway Administration has been trying to decide whether to extend the South Lawrence Trafficway through them.
Stonerock and the Save the Wakarusa Wetlands organization work on outreach programs to educate people about the area.
"Rest assured, we will be back next year," Caron said.
Copyright 2018 The Lawrence Journal-World. All rights reserved. This material may not be published, broadcast, rewritten or redistributed. We strive to uphold our values for every story published.