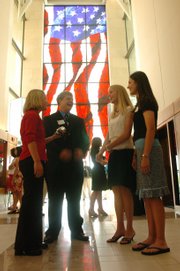 Three questions with ... Charles Mersmann, recipient of a Dole scholarship
Charles Mersmann has volunteered for projects that range from being the president of Fellowship of Christian Athletes to being a church lector.
The 2007 Eudora High School graduate has no plans to quit volunteering when he attends Kansas State University in the fall.
"It makes me feel better about myself when I help other people," he said.
Mersmann, along with 127 other recent high school graduates, was honored Wednesday at a luncheon at the Dole Institute of Politics for his volunteer work.
Students will each receive a $1,000 scholarship, which will be renewable as long as they complete 100 hours of community service a year during college.
Michael Fonkert, a Lawrence resident and Tonganoxie High School graduate, also received the scholarship. He was the vice president of his class and the student council and also volunteered with various building projects at Westside Presbyterian Church in Lawrence. Fonkert plans to use his scholarship at Kansas University next fall, and hopes to be involved in Student Senate, among other organizations.
"I feel it's everybody's world, and being involved is important," he said.
Barbara Ballard, associate director for outreach at the institute, said the scholarship money is from a new federal grant and the legislators who wish to honor Dole, the former U.S. Republican senator from Kansas.
Students can use the scholarships at any of the six Kansas regents universities or Washburn University.
"Public service is an honorable profession, and we need more people," Ballard said.
The speakers at the event included Ron Thornburgh, Kansas' secretary of state, Robert Hemenway, chancellor of KU, and Sue Hack, Lawrence mayor.
Hemenway told the students it was important that people come together around common causes.
"We want you to feel comfortable being engaged in politics," he said.
Copyright 2018 The Lawrence Journal-World. All rights reserved. This material may not be published, broadcast, rewritten or redistributed. We strive to uphold our values for every story published.