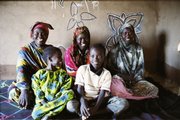 Los Angeles — For two decades, the PBS documentary series "P.O.V." has been resolute about living up to its title - presenting films with a fiercely strong point of view. In turn, it receives its share of viewer feedback.
One particular letter has a place of honor in the office of Simon Kilmurry, director of "P.O.V." producer American Documentary Inc. It's from prominent Christian entertainer Pat Boone about a 1999 film on a school prayer dispute.
"I certainly wouldn't have a well-rounded, comprehensive view of the situation if not for you and the well-produced special," Boone wrote, then went on to detail his own differing point of view, Kilmurry said.
"I treasure the letter because he did exactly what we want people to do - he gave us his personal reaction," Kilmurry said.
As "P.O.V." begins its 20th season today (check local listings) with an Africa-to-America refugee story, "Rain in a Dry Land," the series is more important than ever as a haven for works unlikely to reach an audience elsewhere on TV or perhaps a wide audience anywhere.
"We think it's really important that 'P.O.V.' be a place in the media where there can be an examination of issues that may be marginalized elsewhere," he said.
"P.O.V." provided a stage for the early efforts of filmmakers that it correctly dubs "documentary superstars," including Errol Morris, Jonathan Demo, Michael Moore and Freida Lee Mock. In doing so, it has picked up a sheaf of awards including 18 Emmys and 11 Peabodys.
The series also brought new attention to classic films including Albert and David Maysles' "Salesman," Fred Wiseman's "High School" and Mel Stuart's "Wattstax."
Over the years, Kilmurry said, the focus has moved from topics such as AIDS (1993's "Silverlake Life" was one memorable "P.O.V." film on the crisis) to immigration, and has broadened since Sept. 11 to consider the global community and America's place in it.
"P.O.V." is marking its anniversary with a DVD collection of 15 titles that reflect the sweep of the 250 films the series has aired. The DVD includes "American Tongues" from the 1988 debut broadcast and this season's "The Chances of the World Changing."
The season opener, Anne Makepeace's "Rain in a Dry Land," follows two Somali Bantu families from a refugee camp in Kenya through their first two years in America. They confront poverty and culture shock as one family settles in Springfield, Mass., the other in Atlanta.
Makepeace sees "P.O.V.' as an ideal fit for her project, which represented a leap of faith and personal financial risk when funding was in doubt.
"It was definitely the place I most wanted the film to have a home. Without 'P.O.V.,' where is it going to be shown (on TV)?" she said.
Makepeace is representative of the independent filmmakers who "feel a responsibility and a passion to tell these stories," Kilmurry said. "They're not in this to make money."
"P.O.V." producer American Documentary itself operates a tight ship, with a staff of 14 and an annual budget of $3.1 million. Some of that is used to fund films, which vary widely in cost but average about $400,000 to $500,000 to produce.
Up to 1,000 proposals or films are considered in choosing new projects, Kilmurry said. Sources include an open call, film festivals and markets. The series also advertises for submissions in a variety of forums, including the conservative National Review magazine.
Asked if he had an obligation to scour the filmmaking community more thoroughly for political diversity, Kilmurry said that additional resources would help.
But when a documentary takes a hit for liberal bias, Kilmurry has a ready reply: "The show is called 'P.O.V.'"
Copyright 2018 The Associated Press. All rights reserved. This material may not be published, broadcast, rewritten or redistributed. We strive to uphold our values for every story published.