Dial-up is officially dead at Kansas University.
At its peak in 1999, about 7,000 people used KU's telephone-based "dial-up" Internet service to surf the Web and check e-mail. Today, as more people shift to faster Internet technology, the number of KU dial-up subscribers has dwindled to about 600, prompting KU to announce last week that it would pull the plug on the service in August.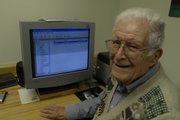 "The main thing is the diminishing use," said Bill Myers, director of information services for the KU libraries. "As we as a university strive toward the provost's vision of a first-class infrastructure, continuing to invest resources in diminishing technologies isn't a step in the right direction."
Another reason for the change, Myers said, was information security. No longer having a dial-up system means one less way that KU's computer network could be breached.
One group that will be affected by the change is KU retirees, who make up about one-fourth of dial-up subscribers. They pay $70 per year for the service, compared with private dial-up services that can cost anywhere from $7 to $20 per month.
"I can't remember when I didn't have it," said Jim Drury, 87, a retired professor of political science who uses his dial-up connection daily for e-mail and Internet browsing. "I have to decide what I'm going to do. I'll try to make an informed decision."
The subject will be discussed on Wednesday at a meeting of the Endacott Society, an organization for KU retirees. Endacott Society members have complained recently about gradually losing their perks.
"We have objected long and loud to this pending change," said Tom Eblen, the group's president. "A lot of retirees have them and still use them and are really befuddled as to why the need for the change."
Then again, some retirees already have moved on. Karmie and Edna Galle, both KU retirees, switched to broadband about a month ago because they figured the change was coming.
"I think some people are upset because they think that KU is not being kind to retirees, but I think it's just the way technology is going," said Edna Galle, a former budget assistant to the dean in KU's school of education. "We wonder why we waited so long."
Copyright 2018 The Lawrence Journal-World. All rights reserved. This material may not be published, broadcast, rewritten or redistributed. We strive to uphold our values for every story published.