The large gray wall on the north side of the downtown parking garage now has an entertaining purpose.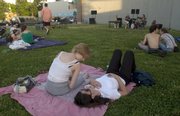 "I think a lot of people have looked at that wall and thought that it would be a great place to show a movie," said Rick Marquez, executive director of Downtown Lawrence Inc. "And that's something we could do."
And that's something the organization did Thursday night when it showed "In A Lonely Place," a 1950 film noir starring Humphrey Bogart, by projector on the wall of the parking garage at Ninth and New Hampshire streets.
The event drew more than 100 people to the grassy area in front of the wall, where they camped out on blankets and lawn chairs, ate free popcorn and enjoyed the movie.
Thursday night's event was the first of four this summer that will feature film noir movies, a popular genre of mid-20th century black-and-white crime movies.
"They're great movies," Marquez said. "Although they're not ultraviolent. They're movies you can show out here and not offend anyone."
Although the Spencer Museum of Art is considering painting a mural of sorts on the wall sometime this year, Marquez thinks the event could become an annual happening with the help of portable movie screens.
Marquez said DLI thought of the film festival as a constructive way to get people to enjoy downtown Lawrence that could complement the Brown Bag Concert Series, which also started Thursday.
"This is one of those events we hope will keep happening year after year and everyone knows when it is," Marquez said.
Copyright 2017 The Lawrence Journal-World. All rights reserved. This material may not be published, broadcast, rewritten or redistributed. We strive to uphold our values for every story published.