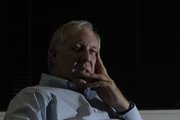 3 questions with ... John Glassman, the new director of Douglas County Senior Services
When John Glassman left as director of a hospital foundation in Colorado last year, he had no doubt about his next stop.
Lawrence beckoned.
"I knew I wanted to come back to Kansas, and Lawrence was where I wanted to live," the 59-year-old Hays native said. "I've always liked Lawrence and I've not been disappointed."
This week Glassman started his new job as executive director of Douglas County Senior Services Inc., 745 Vt.
"It occurred to me that it was likely we baby boomers were going to be spending more time taking care of our parents than we did raising our kids," Glassman said. "They have a different set of needs. I decided I would like to be involved in finding solutions to some of those needs."
The senior services board hired a man whose resume has a long list of achievements, including raising $22 million for the Menninger Foundation in the 1980s and 1990s and marketing one of the nation's first senior diagnostic centers at Topeka's Stormont-Vail Health Services Corp.
Those are just the bottom items on that resume. At the top of the list was his last job as executive director of the Exempla Good Samaritan Medical Center Foundation in Lafayette, Colo. The medical center was built only a few years ago.
"That was a huge undertaking, but boy, I sure learned a lot," Glassman said.
At senior services, Glassman takes over from interim director Lois Mead, who had stepped in after former director Jessie Lusher left in August.
Glassman makes a big impression on people, according to senior services board chairman Dave Mattern.
"He has a tremendous amount of development experience, and he's taken other foundations and operations to the next level," Mattern said. "And that's what we're excited about: taking the senior center to a whole new level, and providing services and expanding services that we're already providing to the residents of Douglas County."
Glassman said he will spend time assessing the services the nonprofit agency provides.
"We want to be sure, first of all, that we're comfortable here that we have our house in order," Glassman said. "Are we really meeting the needs of the people we serve?"
Senior services provides a variety of programs, including Meals on Wheels, adult day care and transportation. Its senior center organizes trips and offers computer classes. Those services are the "day-to-day lifeblood" of seniors, Glassman said.
He said he also wants the agency to do a better job of letting the public know about those services. And he wants it to work more closely with other agencies in the county with similar goals.
Senior services has a staff of more than 20 full- and part-time employees and an annual operating budget of a little more than $1 million.
Glassman came with experience in the world of senior citizens. He was once the interim director of Wesley Towers, which provides assisted living and other services. He has been a consultant with Kansas Homes and Services for Aging.
Glassman says senior services is in good shape financially, but new revenue sources will be needed to fund new programs. County tax money and state and federal funds the agency receives can only go so far, he said.
"I think there is so much pressure on tax dollars that I think it is incumbent on us in all of our long-range planning to really give serious consideration to finding new sources of revenue," Glassman said.
Glassman also has made a name for himself outside the world of senior services and hospitals. He was the executive director of Railroad Heritage Inc., which oversaw the renovation of the historic Union Pacific Depot in Topeka into a museum and education center with a veterans memorial.
And in the 1990s he directed the $12.4 million Treasures of the Czars exhibit, which attracted 500,000 people, for the Kansas International Museum in Topeka.
"That was probably the hardest thing I've ever done in my life, but it was probably one of the best things I've ever done," he said. "But frankly I was too old to be working 23-hour days."
Copyright 2018 The Lawrence Journal-World. All rights reserved. This material may not be published, broadcast, rewritten or redistributed. We strive to uphold our values for every story published.