Photo Gallery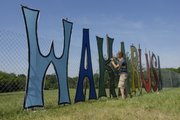 Preparing for Wakarusa Fest
The four-day Wakarusa Music & Camping Festival, which in years past has brought thousands of people - and positive and negative attention - to the area, strikes the first chord at 8 a.m. today at Clinton Lake.
And with so many activities going on during the festival, organizers don't want participants to forget about the festival's main attraction.
"If nothing else, come out to see the music," suggested Heather Lofflin, festival spokeswoman. "Other than that, the fans that come out to our festival create a positive environment that makes it a joy to be out there."
The festival is expected to attract about 15,000 people.
Lofflin said tickets were still available Wednesday afternoon.
She also said that concertgoers can expect a kinder and more user-friendly event.
"We're more organized this year as far as getting information out to people," she said. "We're going to have more knowledgeable people (working the event)."
Aside from music, there will be no shortage of activities such as Frisbee golf, yoga, baseball batting cages and fishing.
There will also be security at the festival. As such, organizers warned concertgoers not to bring fireworks, nitrous tanks, pets or illegal substances.
They can also expect to be searched and screened at entrances.
"Exactly as they have been every single year," Lofflin said. "Of course, there will be law enforcement out there this year."
Local and statewide law enforcement agencies will be present at the concert, although authorities have said that there will not be Kansas Highway Patrol vehicle checkpoints or hidden surveillance cameras, which caused consternation among concertgoers last year.
For more information, go to www.wakarusafestival.com.
Copyright 2018 The Lawrence Journal-World. All rights reserved. This material may not be published, broadcast, rewritten or redistributed. We strive to uphold our values for every story published.