Chat about Wakarusa Festival law enforcement with Douglas County Sheriff's officers
June 7, 2007
This chat has already taken place. Read the transcript below.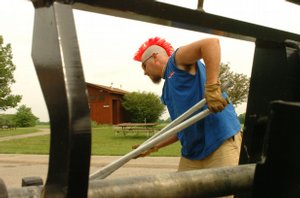 Lt. Kari Wempe and Lt. Doug Woods of the Douglas County Sheriff's Department chat about security and their role at the upcoming Wakarusa Festival.
Moderator:
Hi, I'm 6News Anchor/Reporter Janet Reid, and I'll be moderating today's chat. With me is Lt. Kari Wempe and Lt. Doug Woods of the Douglas County Sheriff's Department. They're here to talk about security at this year's Wakarusa Music and Camping Festival, which is officially underway.
Lt. Kari Wempe and Lt. Doug Woods:
Thank you. We appreicate the opportunity to visit with you. Yes, the Wakarusa Music Fest is underway and so far so good! Traffic is flowing nicely, which is a big plus.
Moderator:
Before we get started, how many deputies will you have working at the festival? How many other agencies are involved? Are there any "hidden" cameras in place this year? Will you be searching individual campsites?
Lt. Kari Wempe and Lt. Doug Woods:
On the busiest night, Saturday, when the bigger acts will be performing, we will have 19 deputies at the festival that night. Otherwise we have 10 to 12 deputies working at the Festival. Generally, there will be four agencies patrolling the grounds: Douglas County Sheriff's Office, WIldlife and Parks, Alcoholic Beverage Control and the Kansas Highway Patrol. We are not testing any surveillance cameras this year. In order to search any campsites, there must be probable cause to search. We have the responsibilities to conduct law enforcement duties as we would every day.
When you "ask" for "consent" to search a person or a vehicel do you tell the person that they have the right to tell you "no?"
Lt. Kari Wempe and Lt. Doug Woods:
Before we ask for consent, law enforcement officers have to have probable cause before any search. The law does not require that we say you have the right to say no, however, some of our officers will remind the person that "no " is an option.
Who pays for the extra officers needed to staff this event? Why was it necessary for the SO to discuss their security plans with festival organizers?
Lt. Kari Wempe and Lt. Doug Woods:
We are there by contract with Wakarusa Festival promoters and they pay for our deputies to be there. Festival Promoters, Festival security, Medical and Sheriff's Office have a combined / cohesive operations plan to create a safe and secure environment. It is interesting to note, that for 4 days, the Wakarusa Music Festival is the second largest city in Douglas County.
I want to thank the sheriff's office for the great measures taken to ensure a safe and compliant music festival but I am dismayed at the attitude held by so many that the recreational drug use that occurs there out in the open should be overlooked. Thank you in advance for enforcing the law! Does your department feel like you need to "back off" a bit this year with arrests made because of this criticism? I hope not!
Lt. Kari Wempe and Lt. Doug Woods:
We are there to provide a safe and secure, and lawful festival. We will continue to appropriately deal with unlawful acts/ violation of the law. We have the same numbers of officers to patol the festival grounds as we did last year. We have not backed off enforcing the law. We want festival attendees to have a good time, but do so in a safe way.
Moderator:
We're about out of time, but with the possibility of severe weather moving into our area, what is the plan to notify all the thousands of festival-goers?
Lt. Kari Wempe and Lt. Doug Woods:
We will notify the attendees through concert public address systems, the festival St. Bernard program volunteers and law enforcement officer's patrol PA systems. We keep patrons advised of the possiblity of dangerous weather. They will be instructed to return to vehicles to wait the storm out or go to low lying areas. The park is not equipped with storm shelters.
Moderator:
Thank you both for being here. We hope the weather stays clear for the festival.
Lt. Kari Wempe and Lt. Doug Woods:
Thanks for the opportunity to answer these questions. We'll see you at the festival.