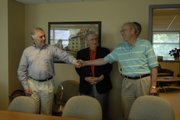 Two Kansas University professors who have helped write, administer, prepare, score and study state assessment exams for millions of Kansas students over nearly three decades were honored Tuesday by interim Education Commissioner Dale Dennis.
"We thought it was about time to say, 'Thanks,'" Dennis joked.
During what was supposed to be a standard meeting to discuss the Kansas Department of Education, Dennis made a surprise presentation, praising John Poggio and Douglas Glasnapp for 27 years of hard work.
"I brought my notepad and my pen," said Glasnapp, about preparing for the meeting. "It really was a surprise, totally unexpected."
He and Poggio began working together on state assessment exams in 1980 at KU. Since then, much has changed, including the way tests are designed, the sheer number of assessments that are required and how students take them. Today, 75 percent of students take assessments online.
"We're not so dependent on them, either," Poggio said. "We don't allow tests to make judgments about children. Tests are tools. They're a partnership between students, the teacher in the classroom and the school administrators."
The philosophy of testing has shifted over time, he said.
"Today, we know it's the place to go when you need some more information," Poggio said. "That alone is a phenomenal change."
Copyright 2018 The Lawrence Journal-World. All rights reserved. This material may not be published, broadcast, rewritten or redistributed. We strive to uphold our values for every story published.