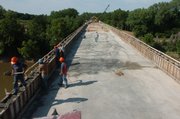 Lecompton and Perry residents will be ready to celebrate when the nearby Kansas River bridge reopens in a couple of weeks.
The bridge that links the two communities was closed in March for reconstruction of the surface deck. The closing turned a five-minute commute between the two towns into an approximately 30-minute detour through Lawrence or Topeka. It affected school bus routes and business in both towns.
"It's unbelievable how that has interrupted life," Perry resident Sharon Porter said.
So far, Douglas County engineer Keith Browning said the construction should be done by the Aug. 10 deadline that the county set.
And the celebrations will begin almost immediately. A covered-dish dinner is scheduled to begin at 7 p.m. Aug. 10 at the Perry American Legion hall. The legion and its women's auxiliary are sponsors. The dinner will be open to anyone in the communities, said Porter, the auxiliary president.
"Just bring your covered dish and your smiley face; you don't have to be a member," Porter said. "We'll have the table sets and the drinks."
A week later, there will be a ribbon-cutting ceremony and party in Lecompton. The ceremony is set for 6:20 p.m. Aug. 17 on the bridge.
"We're only going to close it for about 10 minutes or long enough to get the ribbon cut," Brenda Hastert, an event organizer, said.
Lecompton Mayor Roy Paslay and Perry Mayor Mike Lang will be invited to cut the ribbon. Hastert said they plan to invite Douglas and Jefferson county commissioners. Douglas County commissioners made the controversial decision to close the entire bridge for repairs, while Jefferson County commissioners initially opposed the closing but later supported it. When the decision was made a year ago, a majority of the residents urged them to keep at least one lane open.
After the ribbon cutting, there will be food and live music at the ballfield in Lecompton, Hastert said.
"It will just be a big celebration," she said. "I think if the weather is nice, there will be a big turnout. Everybody is very anxious for the bridge to open."
A.M. Cohron & Son Inc. is doing the work. The company was offered tens of thousands of dollars to finish ahead of schedule. But in May, the Kansas River flooded and water engulfed the firm's equipment and slowed down the project, making an early finish unlikely.
Browning said there were no plans for any celebration at the moment workers finish the bridge.
"We're just going to open it and go have a good weekend," he said.
Copyright 2018 The Lawrence Journal-World. All rights reserved. This material may not be published, broadcast, rewritten or redistributed. We strive to uphold our values for every story published.