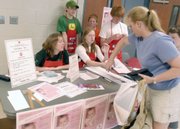 More children getting left in cars
Since the mid-1990s, the number of children dying from being left in the car has soared, totaling about 340 in the past decade.
And punishment is not equal among the offenders - mothers are more likely to be sentenced to prison than fathers or caregivers.
Kevin Kelly, at right with daughter Claire Kelly, 8, sponsors the annual Frances Kelly Blood Drive in Manassas, Va., as required by his sentence. He was convicted of involuntary manslaughter in the death by heat exhaustion of his 21-month-old daughter, Frances, whom he left in a hot van in May 2002.
Manassas, Va. — Kevin Kelly is a law-abiding citizen who, much distracted, left his beloved 21-month-old daughter in a sweltering van for seven hours.
Frances Kelly had probably been dead for more than four hours by the time a neighbor noticed her strapped in her car seat; when rescue personnel removed the girl from the vehicle, her skin was red and blistered, her fine, carrot-colored hair matted with sweat. Two hours later, her body temperature was still nearly 106 degrees.
What is the appropriate punishment for a doting parent responsible for his child's death? A judge eventually spared Kelly a lengthy term in prison. Still, it is a question that is asked dozens of times each year.
Since the mid-1990s, the number of children who died of heat exhaustion while trapped inside vehicles has risen dramatically, totaling around 340 in the past 10 years. Ironically, one reason was a change parent-drivers made to protect their kids after juvenile air-bag deaths peaked in 1995 - they put them in the back seat, where they are more easily forgotten.
Moms treated more harshly
An Associated Press analysis of more than 310 fatal incidents in the past 10 years found that prosecutions and penalties vary widely, depending in many cases on where the death occurred and who left the child to die - parent or caregiver, mother or father:
¢ Mothers are treated much more harshly than fathers. While mothers and fathers are charged and convicted at about the same rates, moms are 26 percent more likely to do time. And their median sentence is two years longer than the terms received by dads.
¢ Day care workers and other paid baby sitters are more likely than parents to be charged and convicted. But they are jailed less frequently than parents, and for less than half the time.
¢ Charges are filed in half of all cases - even when a child was left unintentionally.
In all, the AP analyzed 339 fatalities involving more than 350 responsible parties. July is by far the deadliest month, accounting for nearly a quarter of the total.
A relatively small number of cases - about 7 percent - involved drugs or alcohol. In a few instances, the responsible parties had a history of abusing or neglecting children. Still others were single parents unable to find or afford day care.
'Doting parents'
"When you look at overall who this is happening to, it's some very, very, very good parents - might I say doting parents," says Janette Fennell, founder and president of Kids and Cars, a nonprofit group that tracks child deaths and injuries in and around automobiles.
The AP's analysis was based largely on a database of fatal hyperthermia cases compiled by Fennell's organization. The AP contacted medical examiner's offices in several states where this most often occurs, and the group's numbers coincided almost exactly with recorded hyperthermia deaths.
Some of these children crawled into cars or trunks on their own, but most were left to die by a caregiver. Most often, it was a parent who simply forgot the child was inside.
Texas leads the nation with at least 41 deaths, followed by Florida with 37, California with 32, North Carolina and Arizona with 14 apiece, and Tennessee with 13. There were deaths recorded in 44 states - most in the Sun Belt, but many in places not known for hot weather.
Cars heat up quickly
The correlation between the rise in these deaths and the 1990s move to put children in the back seat is striking.
"Up to that time, the average number of children dying of hyperthermia in the United States was about 11 a year," says Jan Null, an adjunct professor of meteorology at San Francisco State University who has studied this trend. "Then we put them in the back, turned the car seats around. And from '98 to 2006, that number is 36 a year."
Few understand just how quickly a car can heat up, even on a moderate day.
According to one study, the temperature inside a vehicle can rise more than 40 degrees in the span of an hour, with 80 percent of that increase occurring during the first half hour. And cracking the windows did little to help.
Kevin Kelly's story
So what of Kevin Kelly? What did he deserve?
Would it influence your opinion to know that the day Frances died, May 29, 2002, the Manassas engineer was watching 12 children alone while his wife and oldest daughter were abroad visiting a cancer-stricken relative?
Does it matter that when he returned home that day, he'd asked two teenage children - both of baby-sitting age - to attend to their younger siblings while he went back to school for another daughter who was late getting out of an exam?
Or that during the next seven hours, he was accosted by an air conditioning repairman with news that he was going to have to spend several thousand dollars on a new unit? That he fixed lunch, did laundry, mended a gap in the fence that the little ones were using to escape the yard, drove to the store for parts to fix his air conditioner, took a son to soccer practice and fixed a leaking drain pipe in the basement?
Prince William County Commonwealth's Attorney Paul L. Ebert concluded that Kelly's failure to ask after Frances for seven hours rose to the level of a crime. Kelly was convicted of involuntary manslaughter and child endangerment. The jury recommended a year in prison.
But Circuit Judge Rossie D. Alston Jr. had what he thought was a more humane solution. He ordered Kelly to spend one day a year in jail for seven years and to hold an annual blood drive around the anniversary of his daughter's death.
Kelly is still a convicted felon. He cannot vote, and his job was affected because he is barred from certain government properties.
But waiting in line recently at the All Saints Catholic Church to donate blood, he said he is happy for the opportunity to honor his daughter by helping to save lives.
"The judge was very, very merciful," he said as his red-haired children scurried around giving snacks and stickers to donors. "And I'm very grateful for what he did in allowing me to stay with my family and support my family."
Copyright 2018 The Associated Press. All rights reserved. This material may not be published, broadcast, rewritten or redistributed. We strive to uphold our values for every story published.