Colts Drum and Bugle Corps
They're a marching band, only better.
"Drum Corps International is a big deal," said Patrick McCarty, Lawrence High School assistant band director and former Colts member.
A Division 1 bugle and drum corps, the Colts, from Dubuque, Iowa, passed through town this week on a 64-stop national summer tour.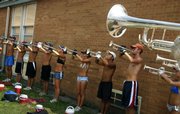 For three months, the band's 135 members travel in a multibus caravan, complete with entourage and a kitchen in a semitrailer.
Obviously, Colts members march to the beat of a different drummer.
"It's a different lifestyle," McCarty said. "The whole summer you don't read the news, watch television or know what movies came out. You have to catch up when you get back to reality."
In rehearsal, the Colts train much like athletes. The Colts usually sleep on the bus en route to the next concert, parade or performance. Tuesday night, they rolled out sleeping bags on the floor of the Lawrence High School gymnasium. Rehearsal day started at 7:30 a.m. Wednesday with calisthenics and a morning run.
"It gets better, and we get stronger, but it never gets easy," said Colts member and Kansas University junior Carol Lowman.
Members audition to be part of the group each December. Auditions screen more for attitude than musical talent, which can be taught, said Mike Grimes, Colts director. The Colts include members from 20 states, Canada, England and Japan. In the spring, Colts members travel to Iowa once or twice a month for rehearsals. Musicians who are 16 to 21 years old can be part of the group.
Wednesday morning, the band rehearsed for hours in preparation for the upcoming Drum Corps International's world championship that starts in early August in Pasadena, Calif. Although the Colts had no official performance scheduled in Lawrence, they did put on their 11-minute show for Lawrence fans Wednesday evening.
"Physically, they're at the top of their game," Grimes said. "We eat four meals a day and the nutritional value is enough to keep them going all day."
Musicians eat a high carbohydrate diet but are really fed by oohs and ahhs.
"The more the audience responds in a positive matter - stand and cheer - the kids get into it. They love performing," Grimes said.
"Some are harder than others. But when we get out and perform for a crowd, the way they respond, that's why I do it," Lowman said.
Copyright 2018 The Lawrence Journal-World. All rights reserved. This material may not be published, broadcast, rewritten or redistributed. We strive to uphold our values for every story published.