Two Lawrence residents know they'll be pushed to the limit this summer.
As members of the Colts Drum and Bugle Corps, Keenan Cox and Chris Hansen will practice up to 14 hours a day.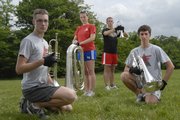 The Dubuque, Iowa-based corps teaches its 135 members - who are between ages 15 and 21 - a high level of professionalism and dedication, Cox and Hansen said.
The group is divided into brass, percussion and color guard. This is the fourth summer with the corps for Cox, who plays the trumpet, while Hansen, who plays the euphonium, soon will depart for his third summer. Both 19-year-olds graduated from Free State High School in 2006. Hansen attends New York University, and Cox is a Kansas University student.
Corps members try out in December and January, and, if accepted, practice one weekend a month in Dubuque. Then, on Memorial Day weekend, they depart for a summer that's filled with practices that last 12 to 14 hours a day when they don't have a show.
"It becomes a nice routine as we go along," Hansen said. "By the time the shows come, people are excited and prepared."
The group performs 25 to 30 shows each summer around the country. Traveling on three tour buses, they sleep in high school or college gymnasiums between practicing and performing.
"The whole reason is to become better people by working at something and performing at a high level," Cox said. "It's shown me that I don't know what my physical and mental limits are."
The Colts Drum and Bugle Corps will rehearse July 24-25 in Lawrence. The public is invited to watch them at Lawrence High School and at KU's Memorial Stadium.
"Last year, we had a really good turnout," Hansen said. "It would be great if we could see a bunch of people again this year."
Copyright 2018 The Lawrence Journal-World. All rights reserved. This material may not be published, broadcast, rewritten or redistributed. We strive to uphold our values for every story published.