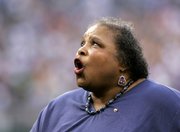 It's a song that brings people to their feet and has also brought tears to some people's eyes. Lawrence resident Lynda Canaday has never seen that reaction to the national anthem. Tonight, however, she experienced it: singing the Star Spangled Banner before thousands of people at Kaufman Stadium.
Lynda Canaday singing The Star Spangled Banner
Copyright 2018 The Lawrence Journal-World. All rights reserved. This material may not be published, broadcast, rewritten or redistributed. We strive to uphold our values for every story published.