Fun, food and fashion shows aren't just for youngsters, as demonstrated by a Saturday morning gathering of more than 100 women representing four generations, ages 14 to 88.
The event, a formal New England tea at Maceli's, 1031 N.H., raised funds for Douglas County Senior Services' learning and leisure department.
"We wanted an event to help women feel good about themselves, to celebrate their strength and beauty and encourage them to embrace the aging process by taking advantage of the many opportunities for life-long learning and wellness," said the department's director, Jessie Kwantamdia.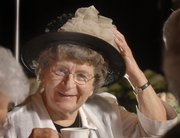 Kwantamdia hopes to increase the services her department offers. In addition to a variety of physical and educational activities available at the Senior Center, 745 Vt., she plans to extend the travel offerings, including a trip to the French Riviera next summer.
Pattie Johnston and Cheryl Holcomb, who have New England connections, came up with the idea for the fundraiser.
"These formal teas were once the only way women could gather without male escorts," Johnston said. "The women could share concerns, develop friendships and invite speakers to help widen their knowledge and give them opportunities to be involved in politics."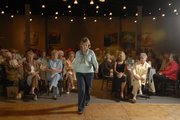 She said former President John F. Kennedy attributed his election to the U.S. Senate to the women who voted for him after attending teas organized by his mother and sisters.
The program followed the pattern of the formal New England tea. Live string music played as people gathered and made introductions, followed by a featured speaker, a formal invitation to take tea and the fashion show.
Tables were decorated in pastel colors, and the Kansas University theater department provided a display of vintage dresses, hats, shoes and gloves.
Elaine Taylor wore a 100-year-old hat.
"It belonged to my husband's Aunt Olive," she said. "I share tea with my grandchildren; we love to dress up and wear hats."
In the opening address, Kansas Insurance Commissioner Sandy Praeger paid tribute to the female role models in her own life. She said her paternal grandmother opened a used furniture store during the Depression, then invited her husband and his brother to join her business on their return from World War II. She lived independently and remained physically and mentally healthy until her death at 98.
"She passed on her love and interest in politics to me," Praeger said, adding that her maternal grandmother worked at KU until she was 73 - until the state discovered she should have retired three years earlier.
"I encourage you all to do whatever it takes to stay physically, mentally and emotional healthy," Praeger said. "We need to celebrate the outstanding women in our own lives, as well as those others who went before us and paved the way for much of what we enjoy today."
Copyright 2018 The Lawrence Journal-World. All rights reserved. This material may not be published, broadcast, rewritten or redistributed. We strive to uphold our values for every story published.